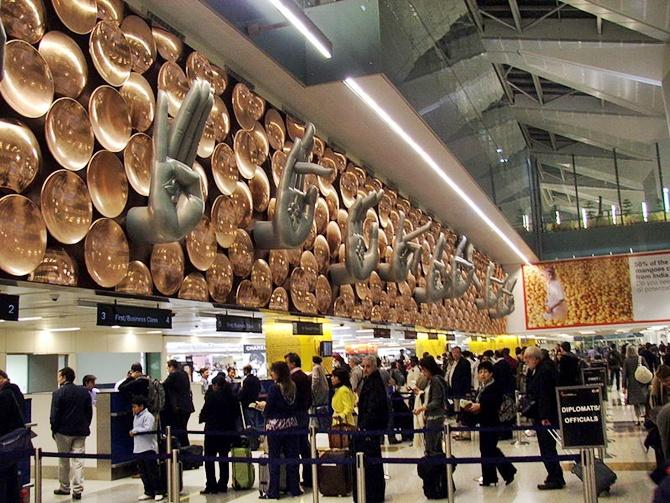 Project hits air pockets but traffic, operational numbers show a turnaround
Public-private partnership projects can take a leaf out of the Delhi airport.
The airport run by Delhi International Airport Ltd -- a consortium between GMR Group (64 per cent), the government's Airports Authority of India (AAI, 26 per cent) and Germany's Fraport AG (10 per cent) -- completed 10 years this May, as a successful PPP.
A comparison of certain metrics since 2006, when it was privatised, shows DIAL has changed the airport's face. In FY16, there were 48.4 million passengers, compared to 16.2 mn in FY07.
Average daily aircraft movement had risen to 943, from 414.
From a dismal Airport Service Quality ranking of 101 in 2006, it topped the list in 2016.
I P Rao, chief executive officer, says: "As an airport developer, we faced many challenges in this journey.
"The immediate challenge was to mobilise 30,000 individuals from 15 countries. Materials were sourced from 20 countries, fabrication yards were set up at site. Direct involvement in procurement and logistics was required."
In 2000, when the International Air Transport Association conducted a survey of the biggest airports in the world, those at Mumbai and Delhi were ranked among the three least favourable ones in the Asia-Pacific region on all 19 service elements. In 2003, the then government decided to invite private capital for both.
A consortium led by GMR and Fraport won the bid for Delhi's modernisation, though the second highest financial bidder, at Rs 2,450 crore (Rs 24.5 billion).
After the agreement, the consortium had to ensure smooth transition of airport operations from AAI to DIAL.
Privatisation and controversy walk hand in hand and in 2012, the Union comptroller and auditor general pointed to many irregularities in the agreement, which it said resulted in loss of revenue for the exchequer.
Airlines have gone to court on the fees DIAL charges, an issue it wouldn't comment on; an official said CAG has no right to audit a private body.
"Considering the transformation of metro airports from a decade ago, it is clear the PPP model has delivered results far in excess of what the government would have been able to do by itself," says a consultant.
Adding: "There are (still) important issues to be addressed in regards to the significantly higher charges on airlines and passengers." From the outset, it has been an expansion drive.
"Under pressure to meet the Commonwealth Games (2010) deadline, DIAL opened its new terminal, T3, in 2010 within three-and-a-half years of starting construction. Designing and construction went hand in hand.
The airport also built a third runway by 2010.
Aerocity, a 43-acre commercial and hotel hub, was planned around the airport in 2007. It has since emerged as a preferred commercial hub for the National Capital Region.
"Worldwide, frequent travellers prefer to stay in places like an Aerocity, to conduct their business as fast as possible and then depart, avoiding traffic or other hindrances, Aerocity thus adds another incentive for business and for long-distance passengers to travel," says an airline official.
The most significant benefit for the government has been revenue flow. DIAL shares 45.99 per cent of its revenue every year with AAI.
In 2015-16, it contributed Rs 2,302 crore (Rs 23.02 billion) to AAI's revenue compared to Rs 277 crore (Rs 2.77 billion) in 2006.
The government last year ditched plans of privatising four more airports.
When it does, the case of DIAL is at hand to pick the positives and discard the negatives.
Image: Indira Gandhi International Airport, New Delhi. Photograph: Krokodyl/Wikimedia Commons