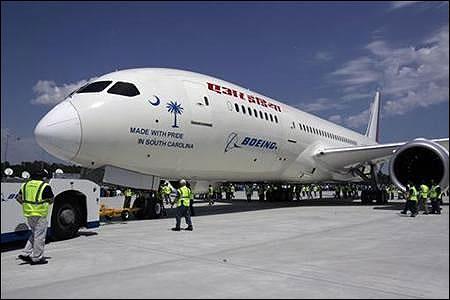 Loss-laden Air India attempts to muscle back into the mindspace of passengers
Ashwani Lohani is clear in his priorities: "We want to fly, fly and fly more."
Since taking charge as chairman of government-owned Air India in August last year, he's made sure the world knows about his intent.
That explains AI pulling out all the stops in its high-decibel promotional offers and advertising campaigns, the budget for which rose to about Rs 70 crore (Rs 700 million) in 2015-16 from about Rs 50 crore (Rs 500 million) a couple of years earlier.
The latest is a 'Super Fare' offer for those unable to get confirmed bookings on the Rajdhani Express, at a price equivalent to AC first-class seats in the train.
Incidentally, a Mumbai-Delhi air ticket is now available upwards of Rs 3,700 for next day travel on all airlines, while a Rajdhani AC first-class ticket costs Rs 4,755.
The airline has taken many other measures to attract passengers and boost its load factors.
These include promotional fares for students, on special occasions such as Diwali and New Year's Eve, a web loyalty scheme and discounts for women travellers in business-class seats.
These have resulted in improved sales and better engagement with the trade.
Its load factors, too, have improved.
In May, these were 84.7 per cent on domestic routes, close to the sector average of 84.6 per cent and 87.2 per cent of market leader IndiGo.
Its market share, though, was down to 15.3 per cent, from 16 per cent in January.
"It's tough to fight in terms of market share as the private airlines are adding capacity at a frantic pace.
"As a government airline, we don't have the luxury to do so," says a top official of the airline.
However, ticket sales are rising.
Sharat Dhall, president, Yatra.com, says, "We have seen a 36 per cent increase in bookings for AI this year on the portal, with especially strong growth in long-haul international flights."
The airline is engaging with agents and is implementing more customer-friendly initiatives, and this has led to an increase in bookings by 15-20 per cent, says John Nair, head, business travel, Cox & Kings.
Also, it has agreed to agents' requests for web parity in fares, offering the same levels on its website and other portals.
"We have seen a five to seven per cent growth in passenger volume in the first quarter of 2016-17 and our load factors on both domestic and international routes have increased.
Sales, though, are flat due to a drop in fares," another official says.
The financial implications of all this on the airline are, however, a different matter.
Savings because of low crude oil prices have helped to expand operations and provide comfort in pricing of tickets.
In FY16, the airline cut its losses to Rs 2,636 crore from Rs 5,859 crore (Rs 58.59 billion) in 2014-15, mainly due to a Rs 2,754-crore (Rs 27.54 billion) saving in fuel.
"Fuel, of course, helped but I believe the turnaround has been due to efficiency in the management. We are now running the house like a proper corporate," says Lohani.
The airline is planning a big expansion and is eyeing 100 new aircraft by 2019-20, a mix of Airbus A320Neos, Boeing 787s and Boeing 777s.
It will also be leasing ATR planes (a short-haul one) to expand on regional routes.
The carrier plans to add flights on 50 such routes, examples being Delhi-Porbandar, Mysuru-Goa, Delhi-Pantnagar and Lucknow-Dehradun.
AI began a Delhi-San Francisco service last December and is the only airline offering non-stop flights from India to the US west coast.
It launched a Delhi-Vienna flight in April and will start an Ahmedabad-London-Newark flight next month.
"The San Francisco flight is doing tremendously well and we have an average occupancy of 80 per cent," he says.
Plans are being drawn to introduce a Delhi-Madrid and a Delhi-Copenhagen service, with the induction of Boeing 787 aircraft later this year.
The strategy is to operate on routes that do not have a direct service from India, as this offers better yields.
For that, it has taken delivery of 21 Boeing 787 planes and will induct six aircraft of the type by August 2018.
"We will launch a service to a new destination only if there is a market potential," says a senior airline official.
Among its medium and long-haul routes, AI flies four times daily to London but Paris, Frankfurt and Hong Kong are served once daily.
However, with debt burden of Rs 51,000 crore (Rs 510 billion), can the airline be as aggressive as the private players?
An AI official says they'd ideally not get into fare wars.
"It is unhealthy but with crude oil remaining soft and the competition doing it, we can't afford not to be competitive in terms of fares," he adds.
"Being in a consumer-facing business, AI certainly needs to market itself and grab visibility but what is important is efficient revenue management.
"There is nothing wrong with increased advertising if done properly," says aviation consultant Anurag Jain.