After a better-than-expected Dussehra weekend, hospitality firms are hopeful of ending the year on a positive note by doing good business over Christmas and the New Year.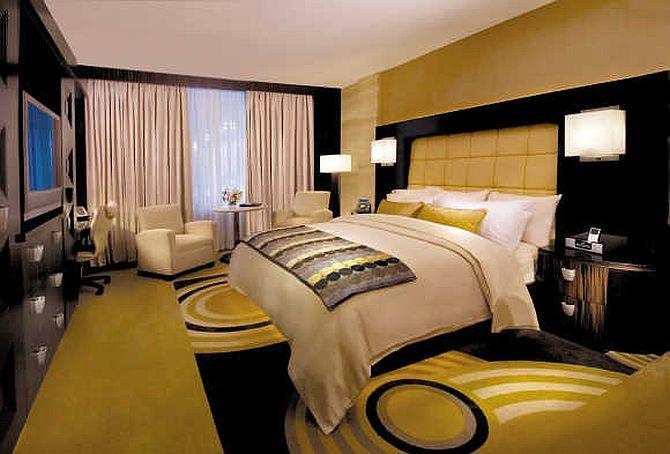 Typically, year-end bookings kick in two to four weeks before the season begins.
Owing to pandemic-related uncertainties, hotels are seeing a significant reduction in the booking window, with travellers waiting till the last minute to make hotel reservations.
But, going by the consistent trend of a sequential uptick in the revenue per average room (RevPar) since July this year, hospitality firms are optimistic of a good ending to the year.
"With government restrictions easing, we are anticipating a very good Christmas and New Year.
"The bookings are likely to start around November and peak in December," said Monisha Dewan, senior area director for sales and distribution, South Asia, at Marriott International.
Marriott, the world's largest hospitality chain, expects the overall occupancy in the current quarter to increase 10-15 per cent year-on-year.
It also expects the average daily rates (ADRs) to lift by around 15 per cent y-o-y as the overall demand, including corporate travel, gains momentum.
Dewan is drawing comfort from the optimal occupancy seen at the leisure properties of Marriott during festivals and long weekends.
So are others.
"Dussehra was a good week with demand from leisure travellers peaking, especially in destinations such as Goa, Jaipur and Udaipur.
"Cities such as Mumbai and Delhi also saw an increase in guest footfalls due to relaxations, with a significant increase in business travel.
"Airline capacity has also been increased to the 2019 scheduling," said Kerrie Hannaford, vice president, commercial, Accor India & South Asia.
Although travellers are not booking till late, it is not making hospitality firms less optimistic, said Hannaford.
Like Marriott, Accor is expecting a good demand for leisure destinations around Christmas and the New Year.
"As international travel opens, we can also expect demand from outbound destinations such as South-East Asia and the UAE,'' said Hannaford.
After an 18-month hiatus, with effect from Òctober 15, the Indian government started granting tourist visas to foreigners wanting to come to India on chartered flights.
From November 15, this will be extended to regular flights.
The relaxation in travel norms a month before the peak holiday season comes as a big relief to the battered hospitality sector that has been forced to rely solely on domestic tourists for business.
Ajay Bakaya, managing director, Sarovar Hotels, believes domestic travellers will continue to be the mainstay for hotels for some time as foreigners are unlikely to be rushing to India for a holiday, restrictions or no restrictions.
During the Dussehra weekend, Sarovar saw its RevPar reaching 90 per cent of what it was in 2019.
"With a recovery every month, we expect it to be similar during Christmas and the New Year considering that both fall on the weekend," said Bakaya.
For the annual recovery to reach 2019 levels, though, it may still take another six to 12 months.
Nikhil Sharma, regional director, Eurasia, Wyndham Hotels & Resorts EMEA, said that as restrictions ease in India, Sri Lanka and Nepal owing to vaccinations and fewer cases, it is seeing brisk demand for Christmas and the New Year with many resort locations now fully booked.
"We expect to see a surge in bookings for other destinations closer to the period.
"Dubai is back on the charts as an international inbound market and we are seeing positive momentum in Sri Lanka with flight connectivity opening up," said Sharma.
The relaxation in norms is already reflecting on the searches of online travel aggregators and booking platforms.
Ritu Mehrotra, regional manager, South Asia, at Booking.com, said it is seeing interest in travel to countries like Canada, the UAE, the UK and France during Christmas and the New Year.
"Within India, leisure destinations such as Goa, Manali, Jaipur, Udaipur and Shimla are some of the most searched destinations from December 25 to January 1, 2022," said Mehrotra.
Travellers are focussed on health and safety, flexible policies and free cancellations.
Competitive pricing and deals, value for money and sustainable travel are also becoming some of their top priorities, she added.
Image used for representation purpose only.
Photograph: Jason Lee/Reuters