The COVID-19 pandemic has not only affected outpatient services, but also led to deferment of elective surgeries, and resulted in the loss of medical tourism, all of which would hit the FY21 financials.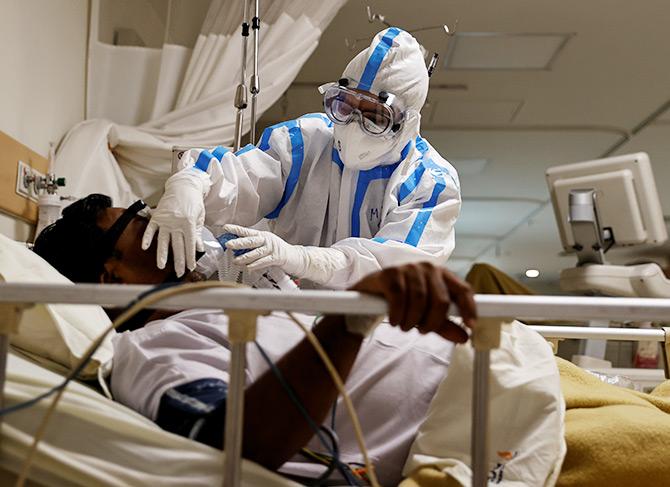 The impact of the lockdown was clearly visible in the March quarter (Q4) performance of major hospital companies, such as Apollo Hospitals, Fortis Healthcare, and Narayana Hrudayalaya.
The COVID-19 pandemic has not only affected outpatient services, but also led to deferment of elective surgeries, and resulted in the loss of medical tourism, all of which would hit the FY21 financials.
Apollo Hospitals results announced last Thursday bear testimony to the impact of lower footfall on its hospital segment.
The lockdown in end-March (nine days), with only limited services permitted, led to a Rs 70-crore revenue loss in the hospital segment at the standalone level, and Rs 100 crore at the consolidated level.
This was offset a bit by sharp growth in the pharmacy segment.
The COVID-19-led disruption has affected the near-term prospects of Apollo, which otherwise was reaping benefits from new capacities added over the last few years.
With major capex behind and new hospitals turning profitable, earnings growth was expected to be healthy.
Plans to bring down debt and a reduction in pledged shares improved sentiment.
Much of these positives were negated after the Covid-19 outbreak.
In April, occupancy in the hospital business plunged to 28 per cent.
Although it improved to 35 per cent in May with easing of the lockdown, and further to 45 per cent in June, it is far from comforting.
Outpatient services, too, are around 25 per cent of normal levels.
There has also been an impact on elective surgeries, which are highly profitable.
Apollo Hospitals, however, expects a recovery in the September quarter, and occupancy improving to break-even levels of 50-55 per cent.
Akhileshwar Krishnan, group CFO, Apollo Hospitals, expects the second half to be much better and net debt to remain stable at Rs 2,300 crore by the end of FY21.
Analysts, too, are hopeful of the long-term prospects of hospital companies, but caution that the COVID-19 situation is evolving and near-term uncertainties continue.
Bhavesh Gandhi at YES Securities feels there is a high degree of uncertainty over the revival of surgeries.
So, as near-term uncertainties weigh on sentiment, investors can use these dips to accumulate Apollo Hospitals' stock.
The one-year target prices by Nomura and Macquarie range from Rs 1,732-Rs 2,100 for the stock trading at Rs 1,388.
Fortis Healthcare - a turnaround story - and Narayana Hrudayalaya, too, were impacted.
The March quarter saw Fortis' hospital segment Ebitda margin contract 50 basis points year-on-year (YoY) to 11 per cent as occupancy fell to 65 per cent, from 68 per cent earlier.
And, it would worsen first, before it gets better, given that occupancy levels had plunged to 29 per cent in April.
For May, it was 35 per cent, while month-to-date occupancy until June 17 stood at 45 per cent, say analysts.
Volumes in the diagnostic business, too, dropped to 75 per cent in April and further to 60 per cent in May.
Analysts at Edelweiss Securities say the management expects hospital business to normalise only in Q3FY21 and diagnostics to achieve 90 per cent of pre-lockdown revenue by July end.
"Hence, we revise down FY21 and FY22 Ebitda by 40 per cent and 20 per cent, respectively," they note.
However, beyond the next one-two quarters, and with its corporate governance issues and litigation largely behind, the Street is hoping for a decent improvement in its performance.
For one, cost-control measures are helping.
These have lowered Fortis' breakeven level to 45 per cent occupancy; a further improvement can help.
Gandhi says the Supreme Court has stayed the open offer, and its lifting (hearing on July 6) can provide a big trigger as it will cement the role of the new promoter, IHH.
Meanwhile, Narayana Hrudayalaya's March quarter revenue and Ebitda declined by 3 per cent and 13 per cent YoY, respectively, and the June quarter is unlikely to be significantly different as compared to the overall trend expected for its two larger peers.
Analysts at Kotak Institutional Equities say the complete normalisation of operations is contingent on the evolving Covid situation.
Photograph: Danish Siddiqui/Reuters