Intimate getaways offered in the form of homestays by hotels are proving to be the flavour of this extraordinary and difficult time. Not far from cities, they offer a pleasant respite from homebound lives, says Pavan Lall.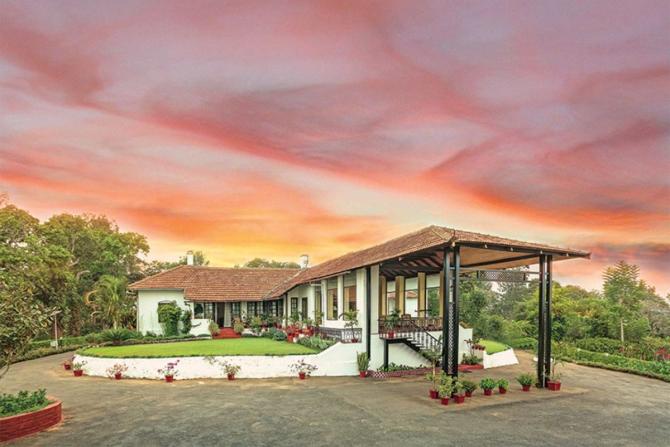 A compulsive traveller, Gaurav Saraf, managing director of Square Foot, a Bengaluru-based flooring company, had tired of being cooped up at home for five months. But he didn't want to risk a holiday where he and his family would have to stay in a hotel. "Hotels have too many touchpoints," he says. But he also needed to get out of home.
So he booked a trip to the Cottabetta Bungalow in Coorg, which was once owned and run by Tata Coffee and is now part of amã Stays & Trails, the brand under which IHCL runs its homestays.
A picture-perfect drive led the family to a simple, but tastefully decorated colonial-style bungalow nestled in a hilly forest. Home-style food, walking trails, indoor games, security, hygiene and helpful staff -- the place, says Saraf, had it all.
"It was like a hybrid -- more than a guest house but less formal than a hotel." The family stayed there two nights.
Such intimate getaways offered in the form of homestays by hotels are proving to be the flavour of this extraordinary and difficult time. Not far from cities, they offer a pleasant respite from homebound lives.
Little wonder, then, that many of these places are booked to capacity, even as hotel occupancies are down by around 75 per cent.
The homestay model is different from the hotel concept. The idea, says Prabhat Verma, IHCL's executive vice president-Operations-South India, International and Ancillary Businesses, is to offer consumers the chance to get away from their homes and within a couple hours, settle into an entirely unique environment -- but with all the facilities, such as laundry service and food, that they would require.
Homestays fall in a different regulatory bracket -- bed-and-breakfast -- and are subject to limits with regards to the number of rooms they can operate and maintain. The category classification is different from state to state, but broadly deems that a homestay will have no more than six to eight rooms. Alcohol permits are not there but most travellers are allowed to BYOB (bring your own bottle).
All amã properties, for instance, have under 10 rooms. "While profit margins in a business like this are 40 per cent, or higher, compared to anywhere between 20 and 25 per cent for a regular hotel, the real upside comes when you scale up," says Verma.
So, IHCL, which is the largest Indian hospitality player, intends to more than triple the number of its amã Stays and Trails properties, taking them up from 15 to around 50 in the next couple of years. The company, Verma says, will add at least five more locations in Maharashtra (including in Alibaug), Goa and Darjeeling in the next few months. Besides Maharashtra, its properties are currently spread across Coorg and Goa.
Unlike hotels, where overhead costs are high, given the extensive staff, infrastructure and ancillary facilities, homestays are much cheaper to run.
Tariffs range from Rs 15,000 to Rs 35,000 for an amã bungalow, and check-ins are usually for two to 10 days. Booking an entire homestay bungalow proves cheaper than renting a hotel room.
For instance, a bungalow in Madh Island, which includes two rooms and a kitchenette, would cost Rs 20,000 a night (including meals), while a standard room at the Taj Lands End in Mumbai, even during offseason, would be priced at Rs 10,000 a night plus GST and other taxes, with additional charges for meals.
The property at Madh Island, a 90-minute ride from the heart of Mumbai, has sea-facing cottages and comes with a caretaker and cook who serves up local coastal fare. The cottages have been booked every night since the place opened in late August, Verma says.
For now, IHCL is the only large hotel chain that runs homestays. The Marriott, Accor and ITC Hotel chains confirm that they haven't ventured into this segment yet. However, there are other such ventures that are seeing success in the last few months.
Devendra Parulekar, who founded Saffron Stays in 2015, has around 200 homes and 700 rooms across the country. The venture is run as a pure-play private homestays with properties owned by the rich and famous who want to monetise them when they aren't using them.
"Among them are bankers, Bollywood celebrities, industrialists, cricketers and private equity executives," says Parulekar. "Alibaug, Lonavala and Kamshet are among the usual haunts where many of these properties are."
Parulekar says homestays are the flavour of the season because of their proximity to cities. His monthly run rate is around Rs 2.5 crore and in the months ahead he expects it to peak at around Rs 4 crore, particularly in December.
Kapil Chopra, who runs Postcard Hotels, a collection of luxury hotels that lists intimacy as the USP, says that the model is timely and would be best served in untapped areas such as Uttarakhand and the Northeast.
Verma says IHCL has leveraged the "One-Tata model" to transform properties it already owns but which were not being used. The Madh Island property, for instance, was originally a Tata Power guest house that was renovated and turned into a homestay. Another one, which is being overhauled in Kochi, is an 80-year-old facility that was once run by Tata Tea, he adds.
The "home-away-from-home" model offers a ray of hope for a sector where the MICE (meetings, incentives, conferences and exhibitions) business and the once steady flow of foreign tourists has dried up because of the pandemic.
While the model would be rewarding for organised players once critical scale is achieved, for now it's a holiday option that's as safe as can be -- under the circumstances.