One of the biggest impediments to growth for this sector is the fact that home healthcare in India is not covered by insurance.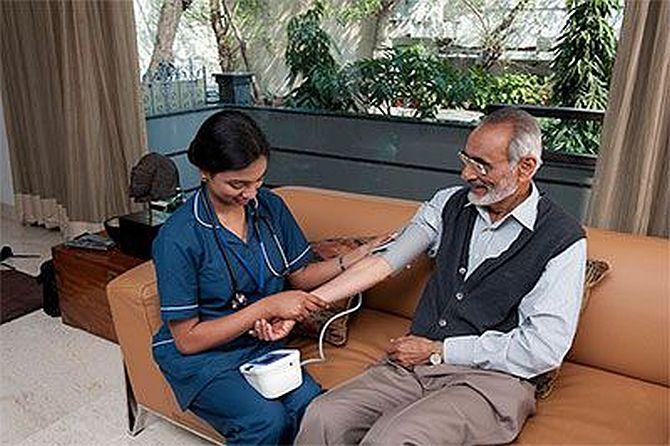 In Delhi's Greater Kailash, Alka Sahni began to panic as her sister Asha's condition worsened.
Fearing the worst, she frantically drove her sister to the nearest hospital.
In Bengaluru, Neelkanth Vaidya, a professor, tried several hospitals in the city before heading to one on the outskirts, where he felt his Covid-positive wife would be treated.
The 51-year-old had a cough, mild fever and a few other symptoms.
But Vaidya did not want to take a chance.
As it happened, neither Asha nor the profess­or's wife needed hospitalisation.
After being exa­m­ined, both were sent away to be treated at home.
This is what Vishal Bali, founder of home healthcare service provider Nightingale and former CEO of Wockhardt, calls the "big mindset issue".
For most Indians, hospitals are the destination of healthcare.
"This is partly why the situation is as bad as it is," Bali argues.
While hospitals are flooded with patients who need treatment, they are also dealing with many who can be taken care of at home but arrive in panic.
Hence, home healthcare, Bali says, could be one of India's best bets to help take the enormous pressure off hospitals.
Healthcare expert Ratan Jalan, an IIT Kharagpur and Harvard Business School alumnus who runs Medium Healthcare Consulting, is convinced that there is a "phenomenal opportunity" for home healthcare to augment India's hospital and healthcare delivery.
Home healthcare remains a niche segment in India even today, but in 2014, when Bali relocated from Singapore, it was virtually non-existent.
He wanted to innovate and make an impact that went beyond hospitals.
That's when he hit upon the idea of home healthcare, a segm­ent that had grown in many countries.
A company called Medwell Ventures was set up to look at vario­us models for augmenting healthcare services in India, with Night­ingale as the home healthcare brand.
Bali, 53, had the requisite credentials.
He had joined Wockhardt as a trainee, rose to the position of CEO and managing director, and had spent two decades setting up its hospitals.
When Wockhardt was sold to Fortis in 2009, he became group CEO of the Wockhardt and Fortis combine.
He then set up Fortis Hea­l­th­care International in Singapore, which went on to acquire healthcare firms in 10 countries.
Nightingale provides services, starting from family phy­s­icians, short- and long-term nursing care, post-hospitalisation care and physiotherapy to stroke rehabilitation, respiratory care, bedside caregivers and attendants, intensive care at home, lab tests and speech therapy.
It supports those with chronic diseases like chronic obstructive pulmo­nary disease, arthritis, neurological strokes, all of which require a multi-disciplinary team of docto­rs, nurses, physiotherapists et al.
In terms of pricing, the comparison between hospitalisation and home healthcare depends on the medical condition in question.
For ins­ta­n­­ce, in the case of a patient who has suffered a neurological stroke, while the cost of a day's hosp­italisation could be around Rs 6,000-8,000 or more, the cost of one month's post-stroke rehabilitation by Nightingale would be Rs 35,000-Rs 40,000.
Nightingale has raised $25-26 million so far.
It has also acquired a company in South Africa that ran home healthcare facilities for retired residential communities.
Nightingale was a pioneer of sorts, now competitors like Healthcare At Home and Portea Medical Services have emerged.
One of the biggest impediments to growth for this sector is the fact that home healthcare in India is not covered by insurance.
"Hospitali­sation is almost a requirement for insurance reimbursements. This has been one of the biggest deterrents to growth," says Bali.
First, the Insurance Regulatory and Dev­e­lopment Authority of India has to recognise home healthcare as a means to provide health services, and insurance firms have to launch products for outside-hospital care.
Some private insurance companies such as ICICI Lombard have come up with innovative products — for instance, it has created a product for cancer coverage — but most public firms don't have any plan for medical coverage outside the hospital.
The pandemic has highlighted the stark need for home care.
Bali says that if the segment had achieved the width, breadth and depth by now, it could have taken a lot of the load off India's hospital network.
Nightingale is managing around 22,000 Covid-positive families in Ben­g­aluru, Hyderabad, Chennai and Mumbai.
"This could be replicated all over the country," says Bali, who has plans to expand Nightingale to 10 cities.
But the acute shortage of trained manpower has been a hindrance.
Finding doctors has been especially tough.
"The company was conceptualised on the premise that we would provide the entire ecosystem needed to give the care a patient needs at home," he explains.
The tradition of the family doctor, who was able but not a specialist, has waned, as most graduate doctors today tend to specialise in a particular area.
"In general, India has failed to create enough talent, but the shortage is magnified in clinicians, nurses and doctors focused on general and internal medicine," says Bali.
(Some names were changed to protect identities)
Photograph: Reuters