Construction major Hiranandani Group is in a race to build Bangladesh's first liquefied natural gas (LNG) terminal in Moheshkhali Island in the Bay of Bengal. If the Mumbai-based group wins the contract for the 5-million-tonne (mt) facility, it may well be the first LNG terminal to be set up abroad by an Indian private company.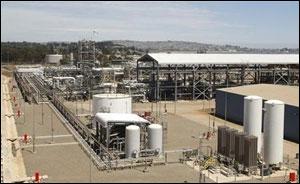 According to the annual report of Bangladesh's state-run energy company Petrobangla, the proposed floating LNG storage and regasification unit will have a regassification capacity of 500 million cubic feet a day (mcfd). Details about the total cost of the project are not immediately available.
In regasification terminals, LNG is returned to its initial, gaseous state, and then fed into transmission and distribution networks.
Darshan Hiranandani, director of Hindustan Electricity Generation, a Hiranandani Group firm, confirmed the development. "We were informed a few months before that we had been shortlisted to build the terminal. According to our information, the other firms were global players like Golar LNG Energy, Astra Oil and Excelerate Energy and Samsung C&T Corp." He added the company was yet to hear more from the Bangladesh government on this.
Bangladesh, facing a shortage of 500 mcfd gas a day, is also planning to set up a 115-km pipeline, linking Moheshkhali to Ring-Main in Fouzdarhat to supply to the clients in the Chittagong area. "This project is very important for the Bangladesh economy and (we) want to implement it sooner. After each passing year, the demand for petroleum and natural gas is increasing in our country and we don't have a terminal now," Bangladesh commerce minister Ghulam Muhammed Quader told Business Standard on phone.
On the other hand, if Hiranandani gets the contract, it is likely to be a severe jolt to West Bengal, where the group was planning to build a 4-mt LNG terminal at Haldia at an investment of about Rs 3,000 crore (Rs 30 billion), said experts. The company is unlikely to build two terminals on the eastern coast and therefore, if it wins the Bangladesh project, the Haldia terminal will be in peril, they added.
"Both the projects are not yet finalised. One is in the bidding stage and the other one is going through the initial monitoring stage," Hiranandani added.
If the group wins the Bangladesh project, it would give India a strategic advantage over China in the Indian Ocean.
The group is already setting up an 8-mt LNG terminal at the Dighi port in Maharashtra for captive use for its coming power plants and to cater to consumers in the power and fertiliser industry.