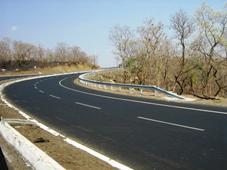 After a three-month lull, the government has set the ball rolling for giving out Rs 14,000-crore (Rs 140-billion) worth of national highway projects. About 40 companies will be in the fray for 30-odd projects in this tranche.

The National Highways Authority of India and the road transport and highways ministry are currently engaged in appraisal of the request for qualifications, said a senior ministry official.

Almost all the projects involving construction of 4,000 km will be expansion ones, involving two-laning of existing single-lane projects.

Although all these projects are government- funded without any private funding, analysts say the move will bring optimism to the industry, as it will boost the order book of construction companies.

"This was the only sector that was doing well among the infrastructure sectors. But it has also been hit by pessimism in the last couple of quarters.

"So, these projects will bring some optimism in the sector," said a Mumbai-based analyst, who tracks private equity investments in the roads sector.

Besides, with funds for these projects coming directly from the government, the companies would not be burdened financially.

These projects would be taken up under the new engineering, procurement and construction model, put in place in August.

According to an official of the roads ministry, NHAI will preside over 2,800 km of these projects,
while the ministry will take care of the rest.
As a part of his renewed focus on infrastructure, Prime Minister Manmohan Singh envisaged awarding 9,500 km of road projects this year.
However, NHAI was able to award only about 700 km of projects in the first two quarters of this financial year.
While financing might not be concern for these projects, ground-level problems could be. "The targets for this year could increase the pace of tendering.
"However, the government needs to address the various issues that are hampering execution such as delays in land acquisition and obtaining clearances and approvals," said Rohit Inamdar, senior vice-president, corporate ratings, ICRA.
The new awards will be made under the EPC model contract, which gives the construction industry more space.
"This will make more companies interested in the EPC projects," said the Mumbai-based analyst.
According to NHAI officials, too, cited lack of response in the build, operate and transfer mode of projects this year. Last fiscal, many projects were aggressively bid on premiums, but financial constraints have made the construction industry careful this time.
"Project developers are facing delays in achieving financial closure for public-private partnership projects due to increased due-diligence by lenders, which is a result of weaker-than-projected performance of many operational PPP projects and aggressive bidding done by the developers in the recent project awards," said Inamdar.