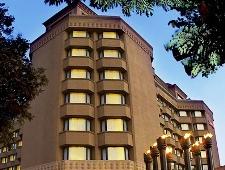 Now, domestic tourists are outnumbering foreign travelers with regard to their stay in heritage hotels across India, a heritage hotel body has said.
"More and more Indian travelers are checking into heritage hotels. The ratio was 80:20 earlier with foreigners leading the chart. But now in the lead are the domestic tourists with 60:40 percentage," Maharaj Gaj Sigh of Jodhpur, president, Indian Heritage Hotels Association, told reporters.
This is in contrast to the past scenario when there were more foreign tourists who used to check into heritage hotels, he added.
He said that there is almost 10 to 15 per cent repeat clientele for heritage hotels. Singh was talking to reporters after chairing the IHHA executive committee meeting in Panaji, which discussed various issues concerning heritage hotels in India.
The pioneer in heritage hotel movement claimed that there is large-scale misconception that staying in heritage hotels is a costly affair.
"That's not true. Average rent for heritage hotel is around Rs 4,000 for double bed room per day," he explained.
"There is a wide range of prices for heritage hotels starting from Rs 2,500 for double bedroom per day to Rs 25,000 for double bed room daily," Rakesh Mathur, IHHA executive member and president of ITC Welfare Heritage Hotels, told reporters.
Mathur said that the travelers coming to heritage hotels do not arrive by chartered flights. "They are individual travelers who go around the country and join the heritage hotel circuit.