The government on Thursday said the proposed service tax on treatment in private hospitals would not affect the common man, giving indication that the levy is unlikely to be rolled back.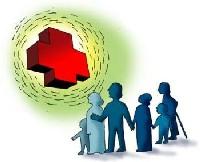 "We have clarified we are giving 50 per cent abatement and in the course of time when the GST is coming most of the services will be there. We are not touching common man because government hospitals are out, less than 25 beds are out," Central Board of Excise and Customs Chairman S Dutt Majumder said on the sidelines of a CII post-Budget event.

Finance Minister Pranab Mukherjee, in his budgetary proposals, has imposed effective 5 per cent service tax on treatment in private hospitals, paid either by individuals, insurance companies or firms.

The same levy would be applicable to diagnostic tests of all kinds. This will however not be applicable to government hospitals.

The health care industry has criticised the service tax imposition and has demanded its rollback.

Apollo Hospitals Executive Director (Operations) Sangita Reddy said that bringing the hospital sector under service tax "is a detrimental move as the burden will be passed to the consumer".

"A majority of the consumers pay from their own pocket as only 14 per cent are covered by insurance. Adding service tax will be a heavy burden on them," she added.

Expressing similar sentiments, Super Religare Laboratories CEO Sanjeev K Chaudhry said: "While the burden of this levy goes to the customers and patients, the anomaly is that the services of accredited and quality rated labs will become more expensive in eyes of the consumers relative to the small street labs."

Majumder said that the service tax on the segment was already there and was operated through insurance schemes.

"It was there through the insurance scheme and actually in effect none was getting any benefit because insurance companies use to tell the people that you go and pay it and get reimbursement from us. Because if they are going and paying it directly there was no service tax," he added.