Housing mortgage lender HDFC today posted a 20 per cent jump in its net profit at Rs 971 crore (Rs 9.71 billion) for the September quarter, on healthy rise in interest income and higher advances.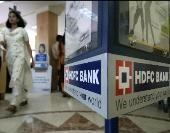 Housing Development Finance Corporation (HDFC) had posted a net profit of Rs 807.54 crore (Rs 8.07 billion) in the year-ago period.

Helped by a smart increase in credit, the core net interest income rose by over 16 per cent to Rs 1,386 crore (Rs 13.86 billion) from Rs 1,189 crore (Rs 11.89 billion) year-on-year, HDFC Vice-chairman and Chief Executive Keki Mistry said.

Even as lending rates continued to be at elevated levels, the company's loan book grew 19 per cent in the six-month period ended September 30, he said.

The company sold loans of Rs 4,989 crore (Rs 49.89 billion) in the 12-month period ending September 30 of which Rs 1,866 crore (Rs 18.66 billion) were sold to its sister concern HDFC Bank during the July-September period alone, he said.

The company maintained its guidance of 18-20 per cent loan growth for the fiscal. Mistry said that company's recently announced fixed and floating (dual) interest rate scheme will not attract additional provisioning as it does not involve a lower rate at the beginning which will qualify it as teaser loans.

The fixed-floating scheme accounted for up to 15 per cent of approvals since launch,
Mistry said. Demand for loans is coming from across the country, Mistry said, noting that the Mumbai market was little slower than the rest and has slipped to number three for the company due to the rate hikes, which dissuade high value buyers.
As of September 30, individual loans accounted for 66 per cent of the lender's book with a 18 per cent jump during the quarter, he said.
Mistry said he expects the Reserve Bank to hike rates by 25 basis points in the forthcoming monetary policy announcement next week but said the central bank will start cutting rates in middle of 2012.
Shares of HDFC gained 0.95 per cent to close at Rs 672.65 at the Bombay Stock Exchange, even as the main index Sensex shed 58 points to close at 17,025.
HDFC's net interest margin for the first half stood flat at 4.3 per cent, Mistry said, adding that the spreads stood at 2.29 per cent.
Its total capital adequacy was at 13.8 per cent as on September 30, he said, adding that there are no plans to raise capital.
The company had to use Rs 255 crore (Rs 2.55 billion) from its reserves for additional provisions as prescribed by the regulator National Housing Bank, Mistry said, stressing that this is an one-off arrangement.
HDFC has a total provisioning of Rs 1,525 crore (Rs 15.25 billion), including Rs 445 crore (Rs 4.45 billion) for dual-interest home loan scheme which has been discontinued, versus the prescribed Rs 1,196 crore (Rs 11.96 billion), he said.
© Copyright 2021 PTI. All rights reserved. Republication or redistribution of PTI content, including by framing or similar means, is expressly prohibited without the prior written consent.