Valued at $71.2 billion, HDFC Bank's market capitalisation is more than that of global banks like Barclays, JP Morgan Chase and Credit Suisse.
Pavan Burugula reports.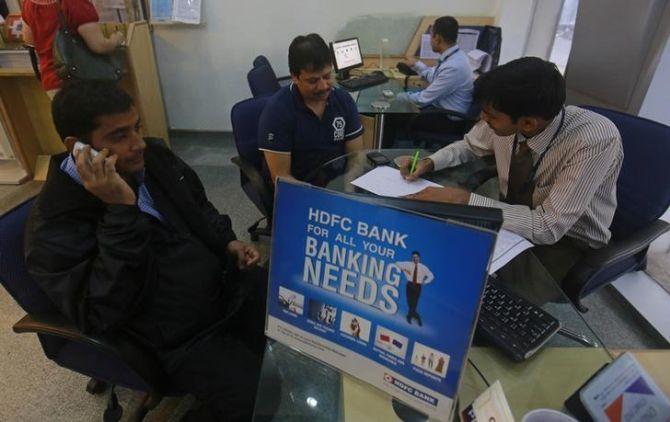 HDFC Bank is within kissing distance of breaking into the league of 10 most-valued global banks.
A stellar 55 per cent rally (in dollar terms) this year has helped the domestic lender improve its standing to 12th from 22nd at the start of the year.
At present, HDFC Bank is valued at $71.2 billion, 1.3 per cent below The Netherlands' ING Group, the 10th most valuable bank.
The domestic lender's market capitalisation is more than that of marquee global banks such as Barclays, JP Morgan Chase and Credit Suisse.
The gains clocked by HDFC Bank this year are second only to the China Merchants Bank which has seen a 63 per cent spurt in its value.
According to market observers, HDFC Bank's emergence is not only driven by its sound performance, but also dwindling health of some of the global majors, especially the European ones.
For instance, Deutsche Bank, which was once much more valuable than HDFC Bank, has seen its market cap erode to $34.5 billion.
Similarly, Royal Bank of Scotland ($44 billion) and Credit Suisse ($41 billion) are now much smaller than HDFC Bank, despite their history and pan-global presence.
The size of the balance sheet of these banks however, is much higher than HDFC Bank.
HDFC Bank is one of the most expensive banking stocks globally in terms of price-to-book (P/B) and price-to-earnings (P/E).
Currently, HDFC Bank is trading five times its book value while most of its peers in the top 15 league trade at a P/B of less than two times.
The one-year forward P/E of HDFC Bank is 22.4 times, by far the highest in the list.
In other words, HDFC Bank's dominance in the market cap league table is more on account of premium valuations assigned to the stock.
"HDFC Bank is a great bet for investors. The bottom line of the bank has been growing at more than 20 per cent for the last few years," said G Chokkalingam, founder, Equinomics Research & Advisory.
"This is an exceptional pace compared to both domestic as well as global peers. The downside for investors is relatively protected as the bank neither has large exposure to markets nor to large corporate loans," Chokkalingam added.
"Even in terms of valuations, HDFC Bank is cheaper than many other Indian banks and financial institutions," pointed out Chokkalingam.
HDFC Bank is also less impacted by the issue of non-performing assets because of its higher retail exposure.
As of the quarter-ended September, 68 per cent of HDFC Bank's loan book comprised retail loans.
The company reported gross NPAs worth Rs 7,700 crore (Rs 77 billion) in the quarter.
"Core profitability of the bank remains strong on the back of good loan growth. The surge in NPAs during the quarter was due to one-off contingent provisions towards a 'standard asset', which is under regulatory discussion," said Nilanjan Karfa, an analyst at Jefferies India.
"Contagion risks from farm loan waivers, the goods and services tax implementation and compliance risks from regulatory assessment of NPAs remain the biggest headwinds," Karfa added.
Even then, the bank's net NPA ratio of just 0.43 per cent for the quarter ending September 2017 is far lower than most peers.
Currently, the list of top 10 global banks is dominated by five Chinese banks, which have a combined market value of nearly $1 trillion.
Photograph: Danish Siddiqui/Reuters