HDFC Bank's January-March quarter (Q4) results, for financial year2022-23 (FY23), brought no cheer to investors as elevated costs, and merger-related uncertainties continue to dent the sentiment.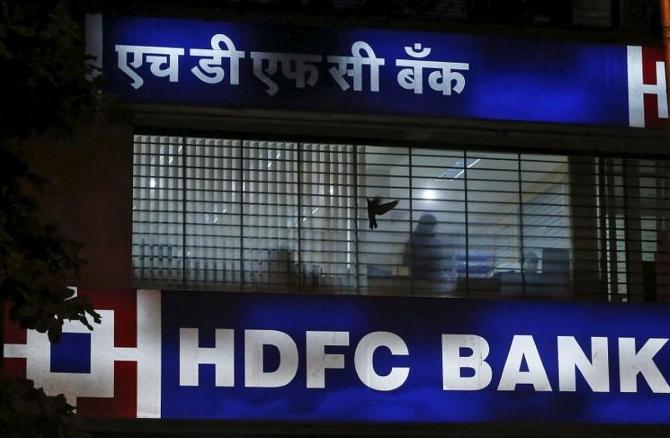 Moreover, analysts fear that merger-related costs may put pressure on margins and cost to income ratio in the near-term, while the return on equity could moderate owing to low leverage of the parent.
Analysts, therefore, opine that the stock's re-rating may be some time away.
"While the risk of a de-rating on a standalone basis appears to be quite low given that the business performance is holding up well, we believe a re-rating in the stock would happen as and when more clarity emerges on the smooth transition (merger)," said a report by Sharekhan.
On the bourses, HDFC Bank shares fell 2.3 per cent in the intra-day trade, before closing 1.5 per cent down at Rs 1,667, as against 0.86-per cent fall in the benchmark S&P BSE Sensex.
During Q4FY23, the largest private sector lender in the country reported a 19.8 per cent on year increase in its net profit to Rs 12,047 crore on the back of strong loan growth.
Net interest income (NII) grew by 23.7 per cent to Rs 23,351.8 crore, with core net interest margin steady at 4.1 per cent on total assets, and 4.3 per cent based on interest-earning assets.
However, despite the healthy NII growth, HDFC Bank reported moderate core pre-provision operating profit (PPoP) growth came in lower than expected at 14 per cent YoY, mainly due to higher operating expenditure (opex) as the bank continued to invest heavily into franchisee network, customer acquisition, and ESOP expense.
Opex increased by 32.6 pet cent YoY as it added 1,479 (up 23 per cent YoY) branches, and 32,478 (22 per cent YoY) employees in last one year.
Cost to income (ex-treasury) increased to 42 per cent (up 238bps QoQ).
Employee expenses, too, shot up by 38.7 per cent YoY (5.7 per cent QoQ) to Rs 4,360 crore, partially due to ESOP expenditure of Rs 300 crore.
As a result, the cost-to-income ratio inched up to 42 per cent vs 38.3 per cent in Q4FY22.
The management has taken a key call to expand its franchise strongly in areas outside metro markets.
However, strong revenue growth backing these investments would be a key part of the investment call, analysts said.
"What's worrying the Street is the strong investment in these branches and inability to clearly measure them; sticky-elevated fixed costs, implying that HDFC Bank would have to build a strong revenue growth in the near term; uncertainty around sustainability of term deposits' growth post merger; and regulatory concerns as regards the the merger are still unanswered," said Kotak Institutional Equities.
Analysts expect the aggressive branch expansion exercise to keep Opex ratios elevated over the near to medium term.
That said, global brokerage HSBC believes these near-term costs may cement the lender's long-term growth story as HDFC Bank is amongst the few banks to see deposit growth outpacing credit growth despite the intense competition for deposits as well as smaller banks offering competitive rates.
"While these necessary investments will likely lead to a slowdown in EPS growth in the near term, they should strengthen the medium to long-term position of HDFC Bank among peers.
"Even though we cut our PAT estimates by 4.0/4.3 per cent for FY24/25e to factor in more moderate NIM and higher cost/income ratios, we retain our preference for HDFC Bank as a preferred stock in the banking space.
"We value the stock at 2.9x FY25e BVPS (3.3x FY24e BVPS) and raise target price to Rs 1,930," it said.
Emkay Global, further, said that notwithstanding the merger-related regulatory overhang, HDFC Bank offers the best play on India's consumption story, and is also a good defensive bet in current choppy waters.
"We retain a long-term BUY, with a revised target price of Rs 2,050.
"However, unfavorable merger structure and growth moderation (particularly in Retail), due to the macro dislocation may dampen the outlook," it added.