Wipro said recently it was expecting its revenue growth to drop 2.33 per cent or stay flat between $2,015 and $2065 million.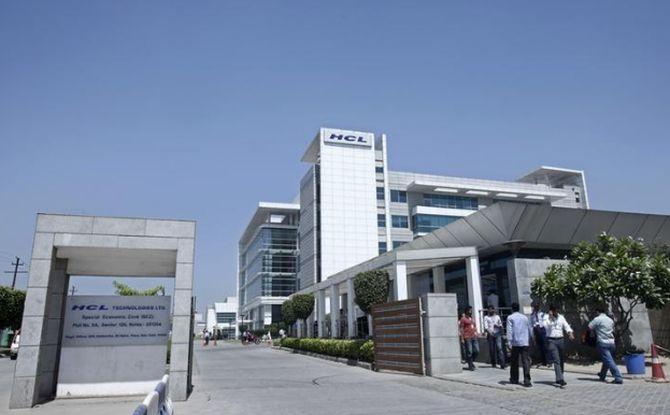 HCL Technologies has overtaken Wipro in market capitalisation and is already at a striking distance to overtake it in revenue terms by the June quarter (Q1) of 2018-19, if not in the March quarter (Q4) of 2017-18.
At the end of the December quarter (Q3) of 2017-18, the revenue gap between HCL and Wipro's IT services business was just $25 million.
In Q4, Wipro's IT services revenues stood at $2,062 million, a growth of 2.6 per cent over Q3. HCL, which grew 3.1 per cent in its dollar revenue in Q3, is estimated to maintain at least the same level of growth, if not more, in Q4.
The firm's Q4 revenues are estimated to be $2,044-2,055 million, according to analysts.
HCL can even throw a positive surprise, if the investments it has made in intellectual properties (IPs) start kicking in to drive Q4 revenues.
This will enhance its likelihood of overtaking Wipro in the same quarter.
If this does not happen, HCL Tech can still easily overtake Wipro by posting a marginal growth owing to the weaker guidance given by Wipro for Q1.
Wipro said recently it was expecting its revenue growth to drop 2.33 per cent or stay flat between $2,015 and $2065 million.
Wipro's outlook for the full year is not quite bullish, with the company struggling with issues like client insolvency and a drop in revenue contribution from a key acquisition.
So HCL is expected to maintain the lead through the fiscal and overtake the rival by a safe margin to become India's third-largest IT services company in 2018-19.
This would be a remarkable achievement for HCL, which was set up at least nine years after Wipro entered the IT and R&D services business in 1990.
Infosys is considered the second-largest IT services company in India, followed by Wipro.
Though Cognizant is ahead of Infosys, technically it is a US-headquartered company.
And TCS is way ahead of the rest of the pack.
"Given the current revenue acceleration of HCL, we believe it is much more favourably placed than Wipro in 2018-19, in terms of revenue growth," said Sanjeev Hota, AVP Research, Sharekhan by BNP Paribas.
"Wipro is struggling with its past acquisitions as well as traditional business lines, which means these are not going to give them a fillip to accelerate revenue growth in 2018-19. If HCL is able to maintain the current momentum of growth, they will certainly overtake Wipro in Q1."
Hota said while HCL has been able to capitalise on its acquisitions better, it needs to be seen how the huge investments it has made in the intellectual properties space pans out.
In August, HCL had taken a huge bet when it entered into a long-term partnership with IBM to invest $780 million into five IPs to take those to market by building solutions and bundling those with services.
This was seen as a move to strengthen digital revenues as well as to offset slower growth in its traditional infrastructure management services business.
"While Wipro had headwinds due to customer specific issues this quarter, HCL's progress can be boiled down to two issues - sales execution and customer intimacy," said Tom Reuner, managing partner, Business Operations Strategy and M&A Advisory at HfS Research.
"The company has demonstrated its ability to deliver outcomes, at times even beyond the contractual terms. Crucially, all these are underpinned by a strategic push on industrialisation, benefitting the bottom line in equal measure.
"HCL has had a nice multi-year run demonstrating a nice string of growth. This strong growth record has now positioned it to pass Wipro in sizes in the near future," said Peter Bendor-Samuel, Founder and CEO of Everest Group.
The two things, says Bendor-Samuel, which really helped HCL to grow at this scorching space is while at the same time its leadership in remote infrastructure management space helped in closing gap with competitors, it also leveraged its balance sheet by making investments in software maintenance rights, hunting licenses and purchasing the assets, unlike others.
This aggressiveness in winning creative transactions coupled with its willingness to leverage its balance sheet has been a significant factor in its accelerated growth over the last three years.
HCL started overtaking Wipro in terms of m-cap this February.
Since then, the firm has steadily expanded its m-cap, which as of Friday stood at Rs 145,000 crore as compared to Wipro's Rs 125,000 crore.
Photograph: Mansi Thapliyal/Reuters.