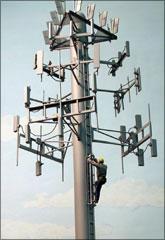 In a major relief to cell phone users and service providers, the Lucknow Bench of the Allahabad High Court has directed Noida authority to open the seal of over 100 mobile towers immediately.
A division bench comprising Justice Pradeep Kant and Justice Ritu Raj Awasthi directed completion of formalities pertaining to setting up of towers by the mobile companies within two months.
In its order on a public interest litigation (PIL) petition filed by Indus Towers Company, whose services are used by cellular service providers in the satellite town on the outskirts of Delhi, the court asked the petitioner to approach the authority with necessary documents for fulfilling the formalities for installing the mobile towers.
Manish Kumar, counsel for the company, informed the court that all legal formalities were completed by Indus Towers but still the Noida authority sealed the towers saying no commercial activities were allowed in residential areas.
The mobile towers were sealed last month-end by the Noida authority which accused the operators of not adhering to the guidelines and consulting Residential Welfare Associations.
Though the sealing affected both GSM and CDMA subscribers, the authority said telecom towers in residential areas were in violation of lease terms as installation of towers amounted to commercial activity whereas premises were allotted for residential purposes only.