The Bombay High Court on Monday deferred till July 5 the hearing on a petition filed by Madhu Kapur seeking a direction to Yes Bank's Board to appoint her daughter Shagun Kapur Gogia as a nominee director.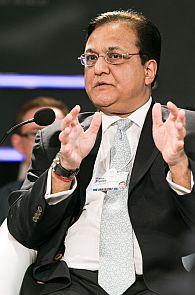 The hearing was deferred by Justice S J Kathawala after Kapur's lawyer sought time to amend her petition saying she was informed on Saturday about the Board's decision not to accept Gogia as a director.

Gogia is the daughter of Madhu Kapur and bank's co-founder Ashok Kapur who was killed in the November 2008 terror attacks in the city. She was nominated by her mother as the legal heir to Ashok's 12 per cent stake in the bank.

Yes Bank was founded by Ashok Kapur and Rana Kapoor who is married to Madhu's younger sister Bindu. The tussle between the promoter families is over a Board seat in Yes Bank.

Rana Kapoor, who owns 13.7 per cent in the bank, is the Managing Director and Chief Executive of the
bank now.
On June 6, Madhu had moved the Bombay High Court seeking to quash the appointment of three directors (Diwan Arun Nanda, Ravish Chopra and M R Srinivasan) to its Board as well as to stall the AGM slated for June 8.
While hearing the case, Justice S J Kathawala had advised the warring families to resolve the dispute in an amicable manner but did not stop the AGM. The HC asked the Board to advance its July 22 meeting to June 27 and consider Madhu's request for making her daughter Shagun a nominee director.
Accordingly, the bank held its Board meeting recently. After the meeting, the bank had issued a statement saying it would inform the High Court about the outcome.
However, a letter addressed to Madhu by the Board said "the Board of Directors has unanimously agreed that the recommendation of Shagun Gogia made by you should not be accepted."
The letter also said Rana Kapoor recused himself from the deliberations on this issue both at the nominations and governance committee meeting and then at the overall board level.
Image
: Yes Bank MD and CEO Rana Kapoor