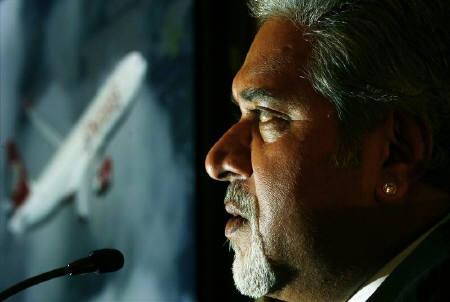 The Delhi High Court on Friday deferred till September 24 the hearing of liquor baron Vijay Mallya's plea challenging summons issued to him by a trial court in several cheque-bouncing cases filed against him by Delhi airport operator DIAL. Justice Sunil Gaur also exempted Mallya from personal appearance before the trial court.
The deferment of hearing came after the judge was informed that the Delhi High Court Bar Association had called for "total abstention from work" in protest against the passage of a bill by Rajya Sabha to increase the pecuniary jurisdiction of the district courts.
The trial court had summoned Mallya as an accused following a complaint by GMR-led Delhi International Airport (DIAL), which operates the capital's IGI Airport, that a cheque for Rs one crore issued by Kingfisher Airlines Ltd on February 22, 2012 was returned to them a month later containing the remarks "fund insufficient".
DIAL has filed four cases against Mallya over KFA's cheques totalling Rs 7.5 crore not being honoured.
The grounded airline had issued the cheques towards payment for services availed by them at the IGI airport here.
Mallya, who was denied permission by the government to be re-elected as managing director of Kingfisher Airlines, has approached the court seeking quashing of September 2, 2014 and January 13, 2014 orders of the trial court by which he was summoned as an accused in the case.
He also sought direction for quashing of the complaint of 2012 pending before the Metropolitan Magistrate.
The Metropolitan Magistrate had in January last asked Mallya to appear before him as an accused and defend himself in trial.
In September last year, the sessions judge had dismissed a revision application against the previous order.
Mallya, also a Rajya Sabha MP, has claimed in his plea that earlier five KFA employees had been summoned as accused in the case on DIAL's complaint, but were granted bail.
"However, no summons was issued to him (Mallya). Notice was framed against the accused persons, who were summoned by order issued on June 7, 2012.
In November 2013, another application was filed and Mallya was impleaded as accused no.6 and on January 13, 2014 he was summoned as an accused," the plea said.
"It is an admitted fact that respondent (DIAL) was well aware about the status of petitioner (Mallya) qua Kingfisher Airlines Limited (KFA) and still chose not to proceed against him (earlier)," the plea added.
It also said that "it was obviously because DIAL was aware that he was a non-resident Indian for the purpose of tax and foreign exchange regulations in India and his role was restricted to directing matter of policy on behalf of KFA and he was not involved in day-to-day operations of KFA as there was a full time CEO (accused no.2)."