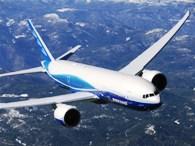 State-owned Hindustan Aeronautics Ltd would now be producing and assembling 'flaperons' of Boeing-777s which are used for take-offs, landings and manoeuvering of these sophisticated airplanes.
An agreement to this effect was signed between HAL and Boeing Company here today for the production of flaperons for use on Boeing's 777 series commercial jetliner. The work will be performed in Bangalore, a Boeing spokesperson said.
HAL is expected to deliver its first flaperon assembly to Boeing "within the next few years", she said.
 The B-777 flaperons are a highly complex composite assembly that is instrumental in controlling the airplane's maneuverability in flight. Referred to as a 'control surface', the flaperons work both as an aileron to control roll and as a flap to control a plane's lift.
"Today's agreement represents yet another work package Boeing has placed in India and HAL since we first began our relationship with HAL in 1991," Boeing India president Dinesh Keskar said.
HAL's director (corporate planning & marketing) Soundara Rajan said showcasing the public sector firm's composite manufacturing capability on one of world's premier long-haul commercial jets "positions us for even greater opportunities at the forefront of technology".
Indian airlines have placed orders for a total of 36 B-777s - 23 by Air India and 13 by Jet Airways.