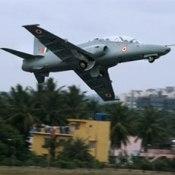 Hindustan Aeronautics Ltd plans to invest more than Rs 25,000 crore (Rs 250 billion) in the next 10 years on the back of a strong order pipeline and big ticket projects on the horizon.
The chairman of the defence PSU, Ashok Nayak, said the company has an order book of more than Rs 60,000 crore (Rs 600 billion).
"We have got a new order for upgrading the Jaguar once more. Fresh order for the IJT (Intermediate Jet Trainer) is imminent…it's under approval…may be Rs 6,000 crore
additional order. They are planning to buy additional 57 aircraft, 40 for Indian Air Force and 17 for the Navy," he said.
Nayak said HAL plans to invest Rs 25,000 crore, mainly through internal accruals. "We have some reserves. Some grant will be given to each project (by the government)".
On how HAL would realise its aim of becoming a $6 billion company in 10 years, from being a $2 billion company now, he said that "big-ticket projects" of multi-role combat aircraft, fifth generation fighter aircraft, multi-role transport aircraft and regional transport aircraft are expected to take off in the coming years.
"So these things will bring the company to that level," Nayak said. "We hope we can do lot more outsourcing. Infrastructure in the Indian private industry is also coming up. We would like to make use of that".