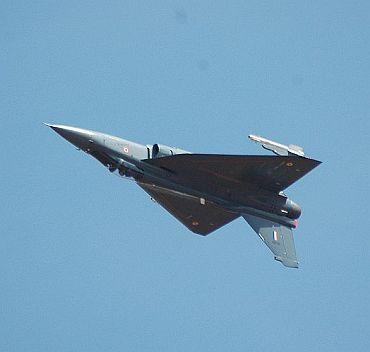 Defence major Hindustan Aeronautics Limited on Thursday announced Rs. 20,000 crore plan for modernising its plants and hinted at the possibility of the company going public and being listed on stock market.
HAL Director (Finance) D Shivamurthi said the company plans to spend Rs. 20,000 crore (Rs. 200 billion) for modernising its facilities over the next 10 years, which would be funded through internal accruals.
The Bangalore-headquartered HAL already has reserves of Rs. 9,000 crore (Rs. 90 billion) and proposed to add Rs. 1,500 crore (Rs. 15 billion) every year, he told reporters on the sidelines of "Aero India 2011" in Banglore.
According to company officials, HAL has 19 production divisions and ten R&D centres in the country. Shivamurti said the company plans to design, develop and manufacture 1,500 helicopters over the next ten years.
The company has Rs. 1 lakh crore (Rs. 1 trillion) worth of orders to be delivered over the next 10 years, said officials.
Shivamurthi indicated that HAL is keen to go public and be listed on
the stock exchanges but added that no final decision has been taken.
He declined to talk about the extent of disinvestment and said the final call would be taken by the government.
He said the issue of disinvestment is being discussed internally and the proposal has not gone to the Board for approval.
Shivamurti said going public, would make the company to "do better and much more responsive" even as he noted that it is also the government policy to go in for more and more disinvestment in strategic sectors.
Company officials noted that Bharat Electronics Limited and BEML, which are also under the Ministry of Defence like HAL, are already listed.
Officials also said that the naval version of the Light Combat Aircraft Tejas is expected to make its maiden flight in eight weeks.
Shivamurti said: "Our (HAL's) turnover last year was Rs. 11,500 crore (Rs. 115 billion); this year (2010-11) it's likely to be Rs. 12,600 crore (Rs. 126 billion)."

© Copyright 2021 PTI. All rights reserved. Republication or redistribution of PTI content, including by framing or similar means, is expressly prohibited without the prior written consent.