GVK Airport Holdings, a subsidiary of Hyderabad-based infrastructure developer GVK Power & Infrastructure Limited (GVKPIL), has signed a share purchase agreement with Bid Services Division Mauritius (BSDM) to buy 13.5 per cent in Mumbai International Airport Private Limited (MIAL). The value of the deal was not disclosed.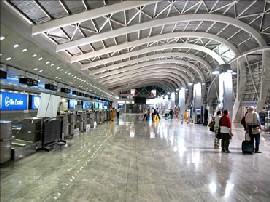 Once GVK acquires the additional 108 million equity shares, its equity shareholding in MIAL will increase from 37 per cent to to 50.5 per cent, while BSDM, ACSA Global and AAI will hold 13.5 per cent, 10 per cent and 26 per cent, respectively.
The agreement is subject to regulatory and other approvals, the company said in a press release on Wednesday.

MIAL is a public-private partnership between GVK, BSDM, ACSA Global and Airports Authority of India (AAI).

MIAL was awarded the mandate for operating and modernising the Chhatrapati Shivaji International Airport (CSIA) in Mumbai in April, 2006.

"The Chhatrapati Shivaji International Airport, Mumbai, is GVK's first flagship airport project in India. As part of our overall objective of consolidating our presence in the airports sector in India, we have taken this significant step of increasing our shareholding in MIAL. This signifies our commitment to the airports sector and further reinforces our vision of transforming CSIA into a world-class airport," said GVKPIL Chairman, G V Krishna Reddy.

Currently, MIAL is implementing a master plan, which includes building a new integrated passenger terminal at Sahar to cater to annual passenger traffic of 40 million.

Besides the Mumbai airport, GVK also operates the Bengaluru International Airport (BIAL). The two airports together accounted for passenger traffic of 40 million in 2010.

GVKPIL holds 29 per cent equity in BIAL. GVK acquired 12 per cent of Zurich Airport's stake in BIAL for Rs 484.6 crore in November 2009 and 17 per cent stake from Larsen and Toubro Ltd, in December 2009 for Rs 686 crore (Rs 6.86 billion).

GVKPIL's operations span across areas like energy, airports, roads and urban Infrastructure.

The company had invested over Rs 14,000 crore (Rs 140 billion) in infrastructure projects and has projects worth Rs 62,000 crore (Rs 620 billion) in the pipeline.