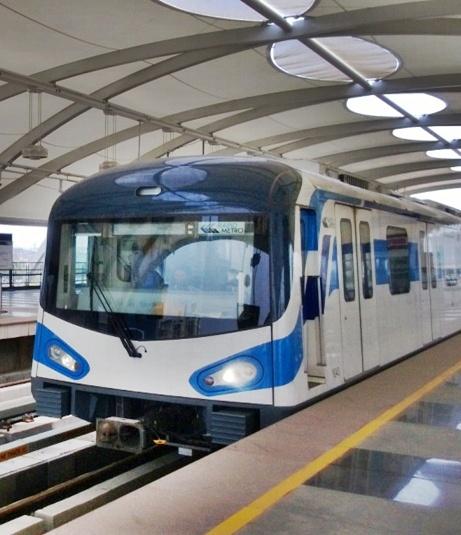 India's first 100 per cent privately-financed Metro rail system, Gurgaon's Rapid Metro, announced on Thursday that it had increased its fares by 66.7 per cent.
A single journey on the metro will now cost Rs 20, as compared to Rs 12 charged earlier. The fare hike will be effective from August 1.
The increase comes just nine months after the Rapid Metro became operational.
The Metro project, constructed and operated by Infrastructure Leasing and Financial Services (IL& FS), has been facing lower-than-expected rider-ship and operational losses. Through the fare hike, the 5.1-km-long Metro will reach the break-even point to meet debt liabilities.
The 5.1-km rail project has a rider-ship of about 42,000 people a day, compared with the initial projection of 90,000-200,000.
"The fare hike is an imperative for the financially viability of the system. However, we have kept the fare reasonable, based on ground realities.
Our focus now is to offer allied services that make the commute convenient for travellers," said Sanjiv Rai, managing director of Rapid MetroRail Gurgaon Ltd or RMGL, the special purpose vehicle for the project.
The Metro line was built at a cost of Rs 1,100 crore (Rs 11 billion) and is currently running on operational losses of about 50 per cent.
The company estimates it spends about Rs 3 crore (Rs 30 million) a month on the service, exclusive of the interest liability of Rs 8.24 crore a month on a debt of Rs 761 crore (Rs 7.61 billion).
Earnings from fares stand at Rs 1.35 crore (Rs 13.5 million) a month. About 30-40 per cent of the overall revenue is accounted for by advertising and station branding. IL& FS says that it has the right to set the base fare after the metro system becomes fully operational.
The sixth metro station on the network became operational in April, completing the Phase I network.
After the expected rise in the base fare, all further fare hikes will have to be cleared by a fare fixation committee, as is the case with the Delhi Metro.
To boost rider-ship, free AC shuttle services from Vodafone Belvedere Towers to Udyog Vihar will be run for six months on a pilot basis for solving issues of last mile connectivity.