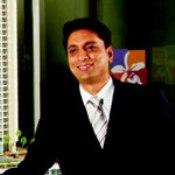 The Gujarati college dropout Shahid Balwa, and a Pakistani exporter Mian Muhammad Mansha are among the 97 billionaires worldwide who have made their debut in the latest Forbes rich-list.
Among these new comers, as many as 62 are from Asia. There are a total of 1,011 billionaires in the list this year, which is topped by Mexican telecom tycoon Carlos Slim Helu.
Balwa, who is into real estate, and Mansha, each have fortunes worth $1 billion. Both have been ranked at the 937th position. "A much better year for world markets meant improved odds for breaking into the world's billionaires rank. In fact, out of the 97 people debut this year, 62 of whom are from Asia.
"The vast majority made their own money, rather than inherited fortunes, in everything from hedge funds and fertiliser to chicken processing and Tibetan medicine," the magazine said.
The publication notes that college dropout Balwa's family migrated to Bombay from Gujarat to start restaurant business. "They moved into hotels, ending up partnering with Vinod Goenka, also a new billionaire, in DB Realty and in telecom outfit DB Etisalat. Their real estate firm currently has 60 million square feet under development," the report notes.
Out of the 97 debutantes in the list, the richest is Chile's Horst Paulmann and family, with a fortune of $5 billion. Paulmann established Cencosud, one of Chile's and Latin America's largest retail conglomerates, and also owns malls and supermarkets, among others.
According to the Forbes, Pakistan's first billionaire Mansha took over his family's business in west Pakistan decades ago, splitting company with his uncles. "His Nishat Group is now Pakistan's largest exporter of cotton clothing (for brands like Gap) and nation's largest private employer," it added.
The chief of the US-based Marvel, famed for the Superhero comics, Isaac Perlmutter is also a new comer in the Forbes list and has a networth of $1.6 billion. Meanwhile, the average networth of the billionaires is currently $3.5 billion.
The Forbes' rich-list is topped by Mexican telecom tycoon Carlos Slim Helu with a fortune of $53.5 billion.