Gujarat chief minister Narendra Modi on Monday said that the state is far ahead of others in terms of job creation and nearly 100,000 youths would be offered jobs soon.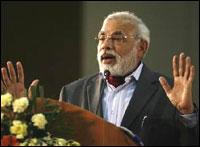 "When the state is celebrating Swami Vivekanand's 150th birth anniversary, creating job opportunities for youths was government's top priority and within a week nearly 65,000 youths would be given appointment letters in various parts of the state, which would be first of its kind in the country,", Modi said while overseeing the distribution of appointment letters to over 13,000 youths of Saurashtra and Kutch districts in Rajkot on Monday.
With many companies coming to Gujarat to set up their units, it is necessary to have adequate skilled manpower and therefore his government has increased the number of ITI centres from 275 to 1056 and allocated Rs 525 crore (Rs 5.25 billion) for them.
"China is India's close competitor and if India wants to compete with China, it should have a large number of skilled manpower and only these ITI centres can meet the requirement," Modi said.
"I also urge the prime minister to allocate maximum budget for ITI centres and I don't know about nation's preparation but Gujarat has started to compete with China by setting up ITI centres in every corner of the state and with maximum budget allocation," he said.
According to union government data, Gujarat was on top in terms of creating job opportunities in the country through state-run employment exchanges accounting for 72 per cent of share.
As part of the government's resolve to offer jobs to youths, the state's labour department had earlier conducted surveys in 184 industrial estates of Gujarat Industrial Development Corporation and identified one lakh vacancies.
The government had organised nearly 500 placement fairs since December last year in which over 126,000 youths participated, and 65,000 were selected by various private companies.
Image: Gujarat's chief minister Narendra Modi speaks during an event in Gandhinagar. | Photograph: Amit Dave/Reuters