Just before the elections, the government waived interest on loans up to Rs 300,000 for farmers. But this may not really help small and marginal farmers in the state, who make up for two-thirds of the total and are still dependent on informal channels of credit.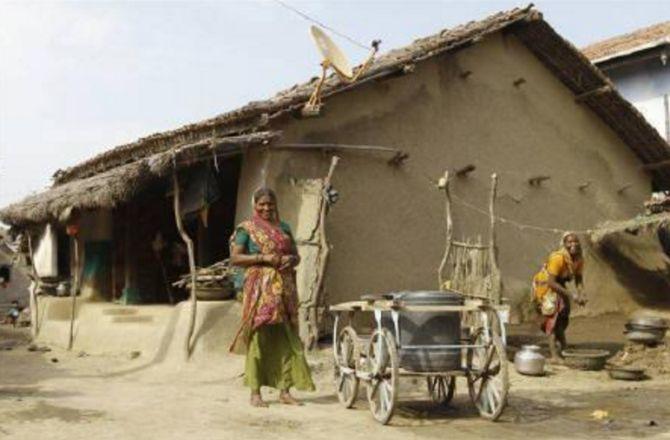 Lakshman Dobariya of Jasdan in the Saurashtra region of Gujarat has seen his realisation drop from Rs 1,200 per 20 kg of groundnut to Rs 600 per 20 kg in the past five years.
Although the state government announced a minimum support price (MSP) of Rs 900 per 20 kg right before the Assembly elections in the state, Dobariya is forced to sell his produce at market prices of Rs 500-600 per 20 kg.
The queues at government procurement centres are unending.
"My costs have risen from Rs 5,000 per bigha to Rs 8,000 while realisations have fallen from Rs 1,000-1,200 per 20 kg to Rs 500-600. This is accentuated by rising pest infestation and an erratic monsoon," says Dobariya.
Dobariya's experience shows how farm distress is brewing discontent among Gujarat's rural electorate.
The state government has pulled out all the stops to assuage the rural voter in the run-up to a crucial election.
Among other things, the ruling Bharatiya Janata Party (BJP) government announced a support price of Rs 900 per 20 kg of groundnut (or Rs 4,500 per quintal) last month, after market prices had crashed to Rs 3,250 per quintal.
The state government also unveiled a Rs 500-crore Budget for procuring groundnut.
Sagar Rabari, convenor of Jamin Adhikar Andolan Gujarat that works with farmers, says with that kind of Budget, the government will be able to procure 110,000 tonnes of groundnut this season.
The output was 2.96 million tonnes last year, and estimates suggest production this year will be 3.2 million tonnes. The majority of Gujarat's groundnut farmers will be left in the lurch.
"The government cannot procure all the stock because it also has to sell in the open market where prices are low. The roots of the problem lie elsewhere, in the lack of market and support infrastructure," says Rabari. But Chimanbhai Shaparia, Gujarat's agriculture minister, says the government has increased the collection centres to 215 this year from last year's 87.
"We are trying to reach where the farmers are," he adds.
Dobariya's woes do not end with low prices for his produce. Add loan repayments and crop insurance, and Dobariya's profits shrink drastically.
Gujarat's agriculture grew at an average eight per cent between 2002-03 and 2013-14 and the slowdown since 2014-15 seems has delivered a crushing blow to the farming community. After shrinking by 1 per cent in 2014-15, farm GDP in the state has not recovered much in 2015-16.
Gujarat has faced drought, floods and delayed monsoon in the past five years.
Experts say farmers' woes have been aggravated by the lack of last-mile connectivity for irrigation with water from the Narmada.
This has rendered many regions dependent on the monsoon, especially Saurashtra and north Gujarat.
A report by the Comptroller and Auditor General of India (CAG) on the Gujarat government has pulled it up for allowing Rs 97 crore worth of irrigation projects to remain incomplete for 14 years.
Agricultural expert Hemant Shah says the area under Narmada water irrigation grew from 193,683 hectares in 2011-12 to 209,057 hectares in 2012-13 but remained stagnant over the next two years.
"At 209,057 hectares, this is 11.67 per cent of the target 1.792 million hectares," Shah points out.
But Shaparia does not think lack of irrigation will be a major issue in this election.
"This year, not only has rainfall been good but the government has ensured procurement at MSP for key crops. We will continue to work towards taking Narmada water into the hinterlands," he adds.
Not just groundnut, price erosion has affected Gujarat's cotton crop as well. Five years ago, cotton yielded Rs 1,400 per bale of 170 kg. This has now declined to Rs 800.
As a result, farmers have over the years reluctantly shifted to crops that require less water.
A V Barad, dean of Junagadh Agricultural University, attributes the change in cropping in Gujarat to the monsoon and availability of Narmada water.
"After groundnut, Saurashtra was known for its wheat production. In the last five years, wheat has been replaced by spices such as coriander and cumin and pulses such as chana," he points out.
Debt trap
Just before the elections, the government waived interest on loans up to Rs 300,000 for farmers.
But this may not really help small and marginal farmers in the state, who make up for two-thirds of the total and are still dependent on informal channels of credit.
Agricultural advances in Gujarat stood at Rs 76,232 crore in June, according to the State Level Bankers' Committee (SLBC), and gross non-performing assets (NPAs) were 5.76 per cent, or Rs 4,390 crore, of these advances.
In fact, the gross NPAs have risen from 2.9 per cent of advances in March 2014 to six per cent now.
Experts point out that the level of NPAs in Gujarat is lower than many other states, but this is primarily because farmers in the state borrow from moneylenders in years when the crop realisation is weak to repay banks.
An estimated 4.8 million families in Gujarat depend on agriculture for their livelihood, but agriculture accounted for only 16.6 per cent of the state's GDP in 2014-15.
Capital-intensive industries in the state have not created enough jobs.
The average monthly income of an agricultural household in Gujarat was Rs 7,926 in 2013.
While this is obviously lower than in agrarian states like Punjab (Rs 18,059) and Haryana (Rs 14,434), the average daily income of a farmer in Gujarat (Rs 264) is lower than the daily wage of an unskilled farm labourer nationally (Rs 341).
It is not surprising that only 11 per cent of the crop area in the state was insured until 2014-15.
The figure was higher for Rajasthan (49.7 per cent) and Madhya Pradesh (45.91 per cent).
But there has been improvement - according to the SLBC data, around 1 million farmers have been covered by the Pradhan Mantri Fasal Bima Yojana till August 2017.
Around one-fourth of the state's cultivable area has some crop insurance.
The job ahead is to push up Gujarat's agriculture GDP. It has remained in a slow growth trajectory for a couple of years, rising from Rs 93,481 crore in 2011-12 to Rs 99,591 crore in 2014-15.
Photograph: Amit Dave/Reuters