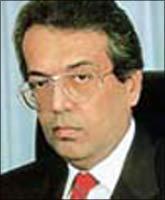 Ranibai Rajaram Chhabria, the mother of the late Manohar Rajaram 'Manu' Chhabria, has challenged in court the merger of Shaw Wallace with Vijay Mallya's United Spirits, the Press Trust of India reported a few days ago. She has claimed that her son died intestate seven years ago and under Hindu Law she is entitled to a fifth of his estate, it said.
It is for the courts to decide the merits of her claim. What the report has done is put the long-winding Chhabria family drama under the arc lights one more time. It is a story with enough twists to beat any soap opera on television.
To recount, Manu Chhabria, a Shikarpuri Sindhi, known for their financial acumen, left Mumbai for Dubai at a young age in the early 1970s. There he amassed a fortune in the distribution of consumer electronics -- Jumbo was the largest dealer of Sony in West Asia.
But he couldn't ignore the call of home turf  for long. Manu Chhabria built a sizeable business in India through a string of high-profile acquisitions: Shaw Wallace, Hindustan Dorr Oliver, Dunlop, Mather & Platt and Falcon Tyres. All went
well till 1992 when he fell out with his younger brother, Kishore Chhabria over BDA Distillery which owned Officer's Choice whiskey.
Kishore Chhabria in fact joined the Mallya camp -- he became the vice-chairman of Herbertsons which was the new owner of BDA Distillery.
Subsequently, Manu Chhabria had his share of trouble with the investigating agencies and had to consequently shift base to Dubai. After the spat with his younger brother, Manu Chhabria had realised that he had no option but to groom his three daughters (Bhawika, Komal and Kiran) for the future. The one who took the lead was Komal. She filled in for her father when he was in exile in Dubai.
Manu Chhabria returned when the matters got sorted out. But his health began to fail him. His last days were spent in hospital where even arch rival Mallya paid him a visit. The end came in 2002 in Mumbai.
The mantle now passed to his wife, Vidya. Though she was the head of the family and the group chairman, her second daughter, Komal, began to call the shots in India.
Then her older sister, Bhawika, stepped in and demanded her share of the business. Soon thereafter, there was a settlement in the family and the Chhabrias sold all their businesses in India. Perhaps the mother was apprehensive that the simmering discontent between the sisters may explode into a no-holds-barred fight.
The breweries were bought by SABMiller and the distilleries by Mallya. The irony of the second sale was not lost on many. The Chhabrias then went inside their shell.
This is now how Manu Chhabria would have wanted it. A few weeks before he died, he had flown to France to buy a winery and a chateau.
Unknown to the outside world, he also had patched up with his brother, Kishore Chhabria, towards the end. By then, Kishore Chhabria had acquired 51 per cent in Herbertsons. The two brothers had planned to merge Herbertsons with Shaw Wallace and jointly take on Mallya. Before the plan could be activated, Manu Chhabria died.
Kishore Chhabria could not take the plan forward with his deceased brother's family. So, he cut a deal with Mallya: Herbertsons went to United Spirits and Kishore Chhabria got to keep BDA Distillery.
Though the beer business had grown at a fast clip in his lifetime, Manu Chhabria knew it had become a high-stakes game. Globally, the consolidation in the beer industry had begun.
The only way Shaw Wallace's beer business could grow was in partnership with a global major. Consultants hired by Manu Chhabria gave him similar advice.
It is not certain how he wanted to structure this partnership. What happened after his death was that the business was sold to SABMiller.
The question that often gets overlooked is where this has left the key players of the drama. Komal, who came across as an entrepreneur and not a trader who would buy and sell businesses to book profits, has not spoken about her business plans in the last few years.
There have been no announcements. All that is known is that she divides her time between Mumbai, Dubai and London. Though the family has opened Jumbo stores in the country, it is not even a pale shadow of its earlier empire.
Kishore Chhabria has made Officer's Choice a brand worth over 10 million cases. He has formed a venture with German premium vodka maker Gorbachev.
For long, he has not had a presence in the premium whiskey segment. He has the product, package and the brand ready, Kishore Chhabria informs, but is waiting for the right moment to launch it because it is an expensive proposition and the company, BDA Distillery, needs to have the capacity to absorb a failure.
Most important, what has become of the Shaw Wallace flagship, Royal Challenge whiskey? Almost 85 per cent of the company's profits used to come from it. The brand actually fell between two stools -- the beer went to SABMiller and the whiskey to Mallya. Who should promote it?
Industry talk has it that growth in the whiskey has hit a plateau. But United Spirits executives say it has grown 10-12 per cent in the last two to three years and sells 1.3 million cases. In the premium whiskey market, its share is 32 per cent. Does it mean there are no losers in the whole drama?
Image: Manohar Rajaram 'Manu' Chhabria