New GST rates are between 5-18% on sectoral products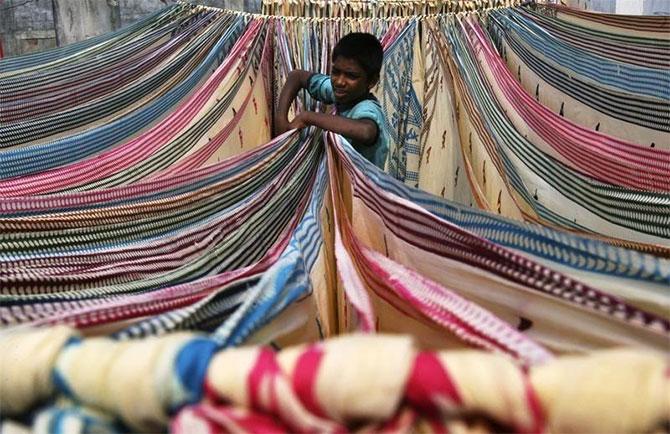 Stakeholders from the textile industry in Tamil Nadu are in a three-day strike against the decision to impose the new goods and srvices tax (GST) at rates between five and 18 per cent on sectoral products.
Members of the Tamil Nadu Power Loom Federation are in strike in Salem, Karur and Namakkal districts against GST and seeking to exempt the industry from the tax.
Around 150,000 power loom units are participating.
Owners say they pay tax for the yarn and again paying tax for the finished products is not justified. And, being small scale, the GST taxation procedure is too complicated.
S Surendhar, secretary, Karur Weaving and Knitting Factory Owners' Association, was quoted as saying around a million powerlooms in the state were closed in protest against the GST rates on multiple production processes.
The GST taxes would badly hit the textile industry, he said, second largest employer after agriculture.
The strike is being held to put pressure to exempt power loom fabric other than in the mill sector from GST, said industry representatives.
GST is fixed at five per cent on job work as service tax on these small scale power loom units, meaning it is also being shifted to weaving and knitting factories which get the jobs done from them, said power loom units.
They say fabric produced out of power looms constitute around 75 per cent of the country's fabric needs and was exempted from value added tax in 2007.
Textile merchants of Gujarat also shut their shops for the second day on Wednesday as part of a three-day strike. Cloth markets in major Gujarat cities remained shut in protest against the five per cent GST on textiles.
"Textile sector was never levied any kind of tax - service tax, VAT or excise. GST makes no sense. Also, the traders have been given no training about GST, and penalty and punishment for non-compliance is harsh and frightening for them," said GST Sangharsh Samiti president Champalal Bodhra.
Photograph: Krishnendu Halder/Reuters