Travel time, too, has not fallen much after the abolition of octroi with trucks still queued up at regional transport offices and toll tax plazas.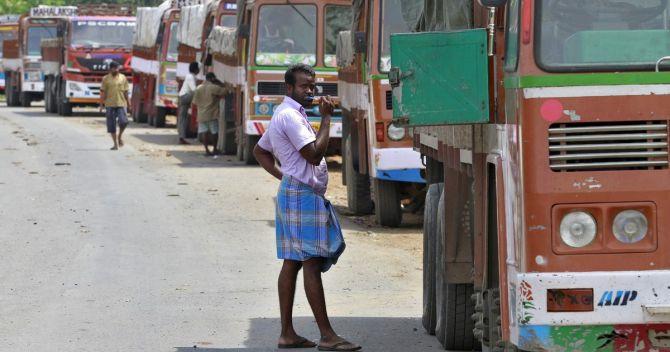 Transporters are under pressure two months after the Goods and Services Tax (GST) was imposed.
The immediate problem faced by the truckers is rising diesel prices. Demand for transport is low, and haulage companies are not able to pass on rising fuel costs except on a few busy routes where freight rates have risen marginally.
"Traders and SMEs (small and medium enterprises) are yet not fully conversant with the GST, and demand is low," says Vineet Agarwal, managing director, Transport Corporation of India (TCI).
TCI is among India's largest freight companies and at any point 10,000-15,000 of its trucks are on the roads.
Travel time, too, has not fallen much after the abolition of octroi with trucks still queued up at regional transport offices and toll tax plazas. The industry fears large-scale job losses if small truck owners are unable to manage the emerging situation.
"The overall transport demand is down 30 to 40 per cent. The turnaround time of trucks has not improved to any significant level.
With a sharp rise in diesel prices, operating cost of truckers has also increased, but those with contractual arrangements are struggling to pass on (increased costs)," says Navin Gupta, secretary general, All India Motor Transport Congress.
Diesel prices have risen about 10 per cent since the end of June. The industry was recovering from the effects of demonetisation when the GST disruption occurred.
"In the long run, the GST will mean good business for the transport sector, but in the initial phase it poses many challenges.
When the kharif harvest season approaches, demand will rise and, by that time, industrial activity will also have normalised," says Ashok Shah, chairman of V Trans India Ltd, a road transport company with an annual turnover of Rs 800 crore and 650 branches.
Agarwal sees business reviving with the early festive season this year.
Rising diesel prices will be passed on at a later stage, resulting in higher freight rates, he adds. But the GST's teething problems linger.
"Transporters are not able to lift goods from unregistered traders. That would require transporters to pay the GST on behalf of traders under the reverse credit mechanism. Nor they can claim credit for the GST payable on sale of old trucks or tyres," said Shah.
The government has said transporters can opt for the forward credit mechanism where they pay 12 per cent GST but claim full input credit.
Many organised players could opt for the forward credit mechanism because it allows them to claim the full 28 per cent GST paid on trucks as input credit.
"The forward credit mechanism proposal has raised fears of small operators being squeezed out," says Shah. Several hundreds of thousands of jobs could be in jeopardy.
The freight industry has a few large players and many small transporters with up to five trucks that they rent out to aggregators.
These small players do business when the big transporters need additional capacity. They might prefer to remain in the reverse credit mechanism to avoid GST compliance issues.
This could split the industry and lead to consolidation, says a source.
Photograph: Sivaram V/Reuters