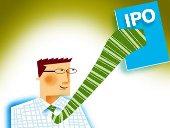 The bull run in the stock market has led to most recent IPOs being oversubscribed many times and sold in advance in the grey market at a premium, industry sources said.


Grey market deals, which are viewed as a sign of market prosperity by investors, are done on the expectation that the shares will outperform the IPO process when they list on the market.


According to a foreign institutional investor  institutional sales division official, who did not like to reveal his identity, shares of Va Tech Wabag Ltd, a player in the water treatment industry, were sold at a huge premium of Rs 330-350.


The issue was oversubscribed by 36.22 times at an issue price of Rs 1,310.


Shares of Career Point Infosystems Ltd, a tutorial service provider, whose issue was oversubscribed by 47.45 times overall and 101.93 times by HNIs, were offered at a premium of Rs 130-135 per share.


The price band of the issue was Rs 295-310, the source said. Similarly, shares of Tecpro Systems Ltd were offered at a premium of Rs 60-65, while shares of Ashoka Buildcon were offered at Rs 42-45 per share over the issue price, he said.


The premium, which was offered by some HNIs and institutional players, including FIIs, to retailers, reached the level of Rs 40-42 over the issue price in the case of Eros International Media Limited and Rs 30-35 for Ramky Infrastructure Ltd, he said.


In addition, shares of Microsec Financial Services Ltd were offered at a premium of Rs 21-23.


However, all the companies that
launched IPOs recently were not as lucky.
The grey marketers did not show much interest in shares of Indosolar Ltd, which were offered at a premium of 70 paise per share, and the shares of Electrosteel Integrated Limited, which managed to attract a premium of Rs 1-1.25 per share.


Shares of Orient Green Power Company Ltd were offered at a premium of just Rs 2-3 over the issue price.


However, shares of Cantabil Retail India Ltd and Tirupati Inks Ltd were offered a decent premium of Rs 14-17 and Rs 8-9 respectively, the source said.


"The premium is calculated on the basis of domestic/international market conditions as well as sectoral/company perspectives," a senior official from a renowned broking firm told PTI while explaining the price difference.


The buyers think the value of certain stocks is more than the issue price and they start collecting them even before they are allocated by the issue registrar through the IPO allotment process, or before the shares are on the stock market, he said.


It is mostly brokers who act as middlemen in these grey market deals, as they have the direct knowledge of clients who apply for such public offers and they may get a commission of 2-2.5 per cent of the premium on the upper side, he said.