Not only primary vegetables, but also additives like garlic, ginger and chilly have recorded a sharp increase in prices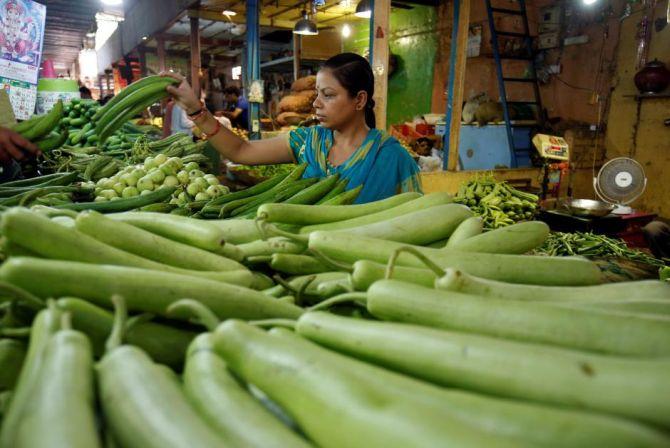 Vegetables have started slipping out of consumers' plates due to a sharp increase in their prices over the past month, on reduced supply following extended rain delaying the harvesting of the new season's crop.
Green vegetables have become costlier by up to 100 per cent during the last four weeks in both wholesale and retail markets.
Not only primary vegetables, but also additives like garlic, ginger and chilly have recorded a sharp increase in prices, which has destabilised the common man's kitchen budget.
Onion has hit its highest in two years and is trading currently (October 23) at Rs 28 a kg in Asia's largest mandi, Lasalgaon.
While the price increase this time around is not new, such a sharp increase has not been seen in recent memory.
Taking advantage of the situation, doorstep hawkers are selling cauliflower at Rs 120-140 a kg despite its price hovering around Rs 60 a kg in the wholesale mandi near Mumbai.
Cauliflower is quoted at Rs 17.50 a kg and Rs 25 a kg in the benchmark Delhi and Mumbai markets, respectively.
"Vegetable prices have doubled in the past month due to spoilage of the last season's stored variety in warehouses and delay in harvesting of the new season crop following extended rain in October.
This year's October rainfall stretched for over a week and was seen for the first time in many years.
This damaged the standing kharif crop nearing maturity and delayed sowing of the rabi crop by two to three weeks, resulting in low arrivals of vegetables in mandis.
Hence, the vegetable price rise is the result of lower supply," said a senior official at the Agricultural Produce Market Committee (APMC), Vashi.
Data compiled by the government-owned National Horticulture Board showed cabbage prices in Mumbai recorded a 100 per cent jump in the past month to trade currently at Rs 40 a kg in retail markets near the mandi.
Its wholesale price continued to hover around Rs 29 a kg in the Vashi APMC.
Similarly, both okra and brinjal (round) are quoted at Rs 50 a kg each in retail markets here, despite their wholesale prices continuing to remain at Rs 25 a kg.
"Vegetable arrivals are very low today in wholesale mandis, as farmers await gradual reduction in soil moisture for harvesting of the new season crop.
Farmers delayed supply amid fears of soil residue in vegetables, which would lead to a deterioration of their quality and reduce realisation.
Consumers would have to bear high prices for a couple more weeks," said Shri Ram Gadhave, president, Vegetables Grower Association of India.
The Ministry of Agriculture in its Third Advanced Estimates on September 1 projected the total vegetable output in India at 176.18 million tonnes for the 2016-17 season, a marginal increase from 175 million tonnes reported during the previous year.
Traders, however, expect production will fall. Sanjay Bhujbal, a trader at the Vashi mandi, said, "The crop damage has caused a severe supply hurdle.
Arrivals of green vegetables have declined to the tune of up to 50 per cent over the past month."
Arrival of bitter gourd slumped to 30 tonnes in the Vashi APMC on Tuesday compared to nearly 85 tonnes in the beginning of October.
Interestingly, onion prices have skyrocketed to double over the past month in the benchmark Lasalgaon mandi on reduced supply.
The modal price of Rs 29 a kg has not been seen since October 29, 2015.
Attributing the price rise to release of lower quantities by stockists amid festival demand, Ajit Shah, president of the Horticulture Exporters Association, said, "The situation will normalise with onion prices set to decline by mid-November."
Photograph: Amit Dave/Reuters