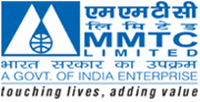 The commerce ministry has consented to 10 per cent disinvestment in  MMTC that can fetch the government Rs 17,000 crore (Rs 170 billion)at present valuation.
"The department of disinvestment had sought our views on the proposal for a 10 per cent disinvestment.. we have given our consent," a ministry official said.
The government holds 99.33 per cent of five crore shares in the well-diversified company with major interests in global trading of minerals and metals, including gold and silver.
Being the largest player in bullion trade, including retailing, MMTC brought in 146 tonnes of gold out of the total import of 600 tonnes of the precious metal in 2008-09.
The company earned a net profit of Rs 140.22 crore (Rs 1.40 billion)on a turnover of Rs 26,475.32 crore (Rs 264.75 billion) in the fiscal 2008-09.
The official said the timing of the MMTC follow-on-offer would be decided by the department of disinvestment depending on the market conditions.
Despite repeated attempts, the MMTC top management could not be reached.
With the boom time returning to the stock market, corporates are making a beeline before SEBI for initial public offers or follow-on offers.
The National Hydroelectric Power Corporation and the Oil India Ltd have recently been listed in the marketplace.