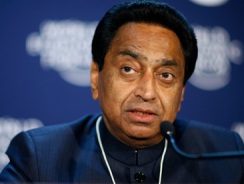 New Delhi Minister for Road Transport and Highways Kamal Nath said on Friday that the government would zero in on the National Highways Authority of India's new chairman by the end of this month.

"A search committee under the Cabinet Secretary (K M Chandrasekhar) is looking into the matter, as soon as they finalise any name, they would go to the Appointments Committee of the Cabinet for approval," Nath said, adding that by the end of the month it would be clear.

"I believe we can decide by the end of the month," he said.

At present, Road Secretary R S Gujral is handling the additional charge of NHAI chairman, the position which has been vacated by Brijeshwar Singh, for three months.
The government had initiated the selection process for the NHAI chairman twice, but met with little success.

It is again looking for a suitable person for the post.

The government has mentioned that the eligibility criteria for the post includes at least 15 years of experience in the field of finance and financial management, besides holding the post of Secretary to the government of India or its equivalent.