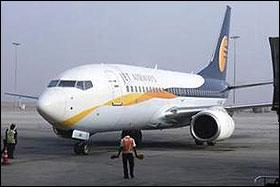 With air fares soaring in the peak holiday season, the Civil Aviation Ministry is working on a proposal to cap the lowest and highest ticket prices for a given period which the airlines would not be allowed to cross.
While the Ministry was working on a mechanism to fix the highest and the lowest price bands, industry experts felt that the best solution would be to link the air fares with the revenue per kilometre (RPKM) calculated by the airlines.
Currently, the lowest return ticket price between Delhi and Kochi stands at around Rs 22,755 while that on the Delhi-Goa sector was Rs 22,527. The lowest return fare on Delhi-Mumbai route, which has about 60 flights a day, was nearly Rs 15,000 and on the Delhi-Kolkata sector was around Rs 16,000.
Civil Aviation Minister Ajit Singh has expressed concern over the sharp rise in air fares, especially during peak hours and seasons, with helpless passengers booking tickets at the last moment having to shell out large sums.
Official sources said though the government would not determine the fares, it was working on a formula to fix the lowest and highest ranges in consultation with the airlines.
The fares would not be allowed to go beyond a fixed multiple of the minimum air fare during a given period, the sources said.
Supporting the capping of the lowest and highest fare bands, Debashish Saha of Aeronautical Society of India said, "There has to be a rationale, a logic to determine the lowest and the highest fares. There needs to be an arithmetical calculation, and the fares must be based on RPKM or ASKM (average seat per kilometre)."
He also sought more transparency in the fares to "let the passenger know" what fare he or she has to pay. In this context, he said earlier the fare-sheet used to be published in the newspapers on a regular basis by all airlines.
On the prevailing system of fare buckets, Saha said the passengers should know how many seats are being offered in each fare bucket and what was available. This price band should also be reasonable, he added.
Ta-Ta, Ratan: An iconic Indian