With six airports handed over to the Adani group for 50 years, the government is now all set to hand over another 25 airports to private players in a bid to 'monetise' them.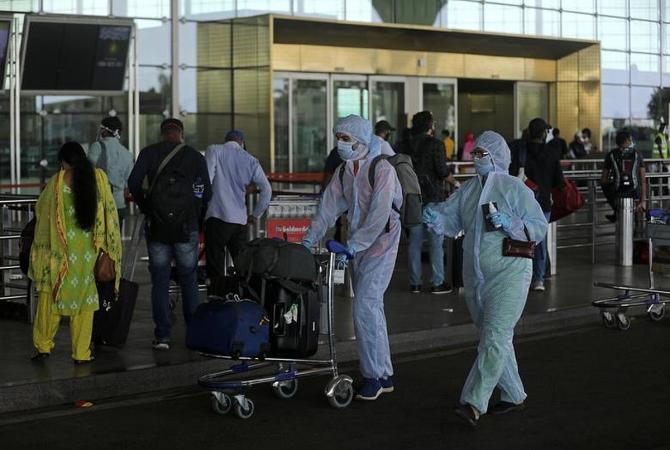 Official figures reveal that since 2017-18, the government has spent and will be spending Rs 14,500 crore on significantly revamping infrastructure at most of these airports before handing them over to private players.
The Airports Authority of India (AAI), which operates these airports for the government, has spent billions of rupees in building new terminal buildings, runways, reinforcing taxiways, upgrading aircraft landing systems, radars and a host of other heavy duty and capital intensive infrastructure works.
The government had earlier stated that it would be spending Rs 25,000 crore on all airports across India.
Now it appears that more than half that money is being spent on airports, which have been privatised or have been listed for being transferred to the private sector in the next few years.
Of the six airports won in a competitive bid by the Adani group, the government had earmarked over Rs 2,500 crore for their 'upgradation and expansion between 2017 and 2020.
According to Ministry of Civil Aviation figures, it spent over Rs 300 crore in completing various infrastructure works at these six airports, including Rs 100 crore on extending and strengthening runways at Thiruvananthapuram and Guwahati during this period.
Furthermore, more than Rs 2,200 crore was being spent by AAI on building various facilities when these airports were won by Adani in 2020.
This included Rs 1,000 crore on a new terminal building at Guwahati.
In a letter to PM Narendra Modi, the AAI employees' union has alleged that Adani was supposed to pay for the works that were being undertaken when the deals to hand over these airports were signed.
The letter written in June 2021 noted, "As per the concession agreement, Adani Enterprises shall be liable to pay AAI all such amounts that have been incurred for the works in progress.
"It is learnt that Adani has not deposited Rs 2000 crore including GST after handing over of three airports.
"While payments haven't been made by the private operator, charges have been increased multiple times.
"If the amount is not paid immediately then strict action should be taken against the concessionaire including forfeiture of performance deposit and ultimately cancellation of the contract."
A look at the concession agreements signed by Adani for three airports shows that it had given a bank guarantee for Rs 130 crore, Rs 125 crore and Rs 120 crore for Ahmedabad, Lucknow and Mangaluru airports respectively.
The AAI has the authority to encash these guarantees if any of the terms of the deal are breached by Adani.
The agreements state that Adani is liable to pay "all amounts that have been incurred by AAI in respect of contracts relating to work in progress."
This amount was to be paid by Adani within 120 days from the commercial operation dates.
Adani's spokesperson denied these allegations and said, "Of these six airports – Ahmedabad, Lucknow, Mangaluru, Thiruvananthapuram, Guwahati & Jaipur – the Adani group now has management control of Ahmedabad, Lucknow and Mangaluru airports.
"As part of our obligations due to privatization of Ahmedabad, Lucknow and Mangaluru airports, we have paid the entire dues to the AAI.
"In the case of the three airports – Thiruvananthapuram, Guwahati & Jaipur – that we have not yet taken over, we will follow the timelines set out for dues under the terms of bids and concession.
"The Adani group abides by the principles governing the business eco-system and practices strictest adherence to timely payments to all stakeholders."
A similar story is likely to unfold for 25 other airports that the government intends to transfer to private players from 2022 to 2025 in a bid to earn Rs 20,872 crore from the move.
These airports including Chennai, Amritsar, Ranchi, Dehradun and many others comprise 18 per cent of all airports managed by AAI.
While earning Rs 20,872 crore looks by 2025 like a good rate of return on what the government has spent on sprucing up these airports, it remains to be seen how successful this exercise would be.
The Modi government is still struggling to privatise Air India – the jewel in its crown.
Additionally, revenues from its two biggest public-private participation drives at Delhi and Mumbai airports have virtually stagnated over the last few years raising questions on the efficacy of the old models of private airport management.
Official figures reveal that AAI finished infrastructure upgrades worth Rs 1300 crore at these airports from 2017 to 2020.
Effectively 40 per cent of all aeronautical capital expenditure was on these airports.
AAI manages 103 other airports across the country in addition to these.
In fact by 2025 when most of these airports would have been monetised, AAI would have additionally spent more than Rs 8500 crore on upgrading them.
By March 2022, six airports that include Amritsar, Trichy, Varanasi, Bhubaneshwar, Indore and Raipur would have been hived off to private operators.
One of the big ticket projects among these airports is the Rs 951 crore new terminal building at Trichy.
The deadline for completing the terminal at Trichy is May 2022, effectively providing the new private operators a spanking new complex requiring little capital investment in the times to come.
In the second phase, eight airports would be 'monetised' in 2022-23.
They include Kozhikode, Coimbatore, Jodhpur, Ranchi, Madurai, Surat, Patna and Nagpur.
The highlight would be a Rs 1225 crore terminal at Patna to be readied by October 2022; well within time for the private operator to take over its management.
In the third phase, six other airports including Chennai, Tirupati, Vijayawada, Bhopal, Hubli and Vadodara go under the hammer in 2023-24.
AAI is spending close to Rs 5500 crore on renovating these airports with more than half that amount being spent on Chennai airport's expansion alone.
The work at Chennai which costs Rs 3000 crore will culminate by September 2022.
In the fourth and final phase, five airports including Rajahmundry, Dehradun, Imphal, Agartala and Udaipur will be 'monetised' in 2024-25.
The government which is heavily spending on ramping up aeronautical infrastructure in the North East would end up spending almost Rs 1700 crore before these airports are handed over to private players.
The most significant investments of AAI will be at Dehradun and Agartala.
It is expected to spend close to Rs 1000 crore in building new terminal buildings and expanding runways at these two airports.
AAI's spokesperson JB Singh did not respond to questions till the time of publication.
Economists believe that corporates would maximise their profits by levying high airport user charges to realise the money paid to the government.
The ordinary taxpayer whose money was used by the government to build these airports in the first place, would again have to pay exorbitantly to use them.
"This huge amount on building crucial infrastructure has been spent by the government out of tax payers' money.
"Privatising airports will lead to complete regulatory capture in which airport operators will dictate terms to ordinary flyers by increasing user and other charges.
"Ordinary citizens using airports built with their own money will be double taxed.
"What happened to electricity charges in Delhi when power distribution was privatised by the Congress government is textbook example of what will happen to airports in the years to come" said Biswajit Dhar, professor of economic studies and planning at Jawaharlal Nehru University (JNU).
The Modi government is likely to privatise the 25 airports under its monetisation scheme by using the Adani concession agreement as a template.
The agreement inked with Adani which entails AAI receiving a fixed amount for every passenger is considered a superior deal than the one inked with GMR for Delhi airport and GVK for Mumbai airport (now taken over by Adani).
The deals inked for Delhi and Mumbai give AAI a fixed share of these airports revenue and has been subject to various disputes.
If the Adani model of concession agreements is adopted, then private operators would have three main obligations under the deal.
First, to "design, develop, finance, construct and expand the airport" in a phased manner. Second, "operate, maintain and manage the airport."
Finally and most lucratively, "develop the city-side" real estate of the airport (on the lines of GMR Aerocity in Delhi and the valuable parcel of non-aeronautical commercial land adjoining Adani's Mumbai airport).
Adani has got almost 38 acres of land close to the airports in Ahmedabad and Lucknow that can be used for real estate development for the next five decades.
With the first obligation largely taken care of by the government, the private operators who will control much of India's airport traffic by 2025 would be set free to direct their energies on more profitable obligations.
Photograph: Francis Mascarenhas/Reuters