Government has decided to raise the bar on annual income required to qualify for benefits under its existing housing schemes for Economically Weaker Sections (EWS) and Lower Income Groups (LIG), a move that will benefit 20 lakh (2 million) people.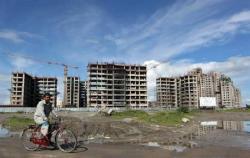 "The income criteria for EWS housings was Rs 60,000 per year, which we have now raised to Rs 100,000. That means those having household income of Rs 100,000 can avail the benefits of EWS housing schemes. Similarly, for LIG category the income limit has been raised to Rs 200,000," Union Minister for Housing and Urban Poverty Alleviation (HUPA) Ajay Maken told reporters.
The decision will be put in place during the 12th Five Year Plan and is being communicated to banks and state governments for
effective implementation, he said.
After inaugurating the Build Tech-2012 organised by HUDCO in New Delhi, the Union Minister said "now, these people will be able to take benefits under Rajiv Awas Yojna (RAY) and EWS Housing Schemes", he said adding in a lighter vein "they will not be required to make false income certificates anymore."
Asked about the number of people who will benefit by these measures, he said "we have a target of covering 20 lakh people under the 12th Five Year Plan and this is going to be a "big step" in that direction as more people will now qualify for (home) loans."
Maken said the decision will be implemented with immediate effect and steps are being taken for that.
"We have issued orders from the Ministry and banks and state governments will be told about it. It will be implemented with immediate effect," he said.