India plans to make air travel affordable on small routes, boost regional connectivity and reopen closed airports.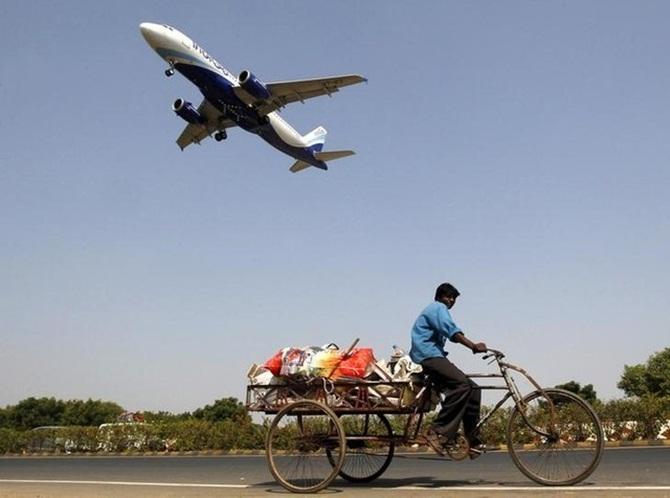 IMAGE: Two per cent levy is proposed on all domestic and overseas tickets. Photograph: Reuters
Unveiling the much-awaited draft civil aviation policy, the government on Friday proposed tax incentives for airlines, maintenance and repair works of aircraft besides mooting 2 per cent levy on all air tickets to fund regional connectivity scheme.
In a significant move, the Civil Aviation Ministry has pitched for over 50 per cent Foreign Direct Investment (FDI) in domestic carriers in case the open skies policy is implemented. At present FDI limit is 49 per cent.
Under open skies policy, overseas airlines can operate unlimited number of flights into and out of India.
Presenting the revised draft national aviation policy in New Delhi, Civil Aviation Secretary R N Choubey said the ministry has proposed 2 per cent levy on all domestic and international tickets for regional connectivity scheme.
"The government expects about Rs 1,500 crore (Rs 15 billion) annually from charging 2 per cent levy " Choubey added.
The policy has mooted various measures to boost regional connectivity including setting up of no-frills airports and providing viability gap funding for airlines.
Another proposal is to cap fare at Rs 2,500 for one-hour flight under regional connectivity scheme.
To make MRO (Maintenance Repair, Overhaul) cheaper, the government has proposed to exempt such activities from service tax net and not levy any VAT.
However, the government has decided to seek more comments from stakeholders before taking a final call on 5/20 norms - whereby local airlines can fly overseas only when they have five years operational experience and at least a fleet of 20 aircraft.
The policy has now mooted three options -- abolish the norm completely, continue with it or link overseas flying rights with domestic flying credits.
The draft policy would be put up for comments from stakeholders for three weeks.
To ensure increased regional connectivity, the policy has also proposed various concessions such as state governments providing free land and lowering the Valued Added Tax (VAT) on ATF to 1 per cent or less.
There would be no service tax on tickets under the Regional Connectivity Scheme (RCS) apart from service tax exemption for scheduled commuter airlines taking jet fuel from RCS airports.
For regional connectivity, 80 per cent of the viability gap funding would be shared by the Centre and rest by concerned states. Choubey said that no-frill airports are being proposed to be set up at a cost of Rs 50 crore (Rs 500 million) as part of efforts to boost regional air connectivity.
The revised policy has floated the concept of Scheduled Commuter Airlines (SCAs) which would have relaxed norms and those entities would not liable to pay airport charges for operations under RCS.
SCAs can be set up with a minimum paid up capital of Rs 2 crore (Rs 20 million) and their aircraft would have a capacity of 100 seats or less. These entities can also enter into code share with other airlines.
Seeking to provide a more friendly Maintenance, Repair and Overhaul (MRO) regime in the domestic market, the ministry has proposed exemption from service tax for those activities and simplified customs clearance procedures.
"MRO, ground handling, cargo and ATF infrastructure co-located at an airport will also get the benefit of infrastructure sector, with benefits under Section 80-IA of Income Tax Act," Choubey said.
Various measures have been mooted for rationalisation under route dispersal guidelines as well as for liberalised bilateral rights framework. Domestic carriers would be allowed to enter into code share agreements with foreign airlines without prior approvals.
"A review will be carried out after five years to consider the requirement of further liberalisation in code share agreements and to drop the requirement of reciprocity," Choubey said.
Civil Aviation Minister Ashok Gajapathi Raju and Minister of State for Civil Aviation Mahesh Sharma were also present. With regard to development of airports, the ministry said it would endeavour to provide regulatory certainty.
It would explore "ways to unlock the potential land use by liberalising the end use restrictions for existing (excluding Public Private Partnership) and future airports of AAI and future airport projects under PPP," Choubey said.
As per the revised draft policy, tariff at all future airports would be calculated on a 'hybrid till' basis.
Airports Authority of India would be suitably compensated in case a new greenfield airport is approved in future within a 150-km radius of an existing operational AAI airport but this would not be applicable for civil enclaves.
"Alternatively, give option to (AAI) have the right of first refusal or equity participation up to 49 per cent in the new airport at its discretion," Choubey noted.
With regard to ground handling, the ministry has suggested that there should be at least three agencies for that purpose including Air India's subsidiary or joint venture at an airport.
"Domestic airlines and charter operators will be free to carry out self handling themselves or through their subsidiaries or to outsource the same to other airlines or to a ground handling agency," he said.
As part of 'Make In India' initiative, the civil aviation and defence ministries would work together to ensure that commercial aero manufacturing is covered under defence offset requirements.
Areas where "aero-manufacturing takes place would be notified as SEZ (Special Economic Zone)," the policy said. The ministry emphasised that the policy aims to provide a conducive environment and a level playing field to various aviation sub-sectors including airlines, airports and cargo.
With respect to security, the policy has proposed encouraging private security agencies at airports for non-core functions.
The ministry would also develop "service delivery modules" for aviation security, immigration and customs, among others, in consultation with other ministries.
According to the ministry, separate regulations would be notified for helicopters by aviation regulator DGCA by April and the government would also facilitate to initially develop four heli-hubs.
"Helicopters will be free to fly from point to point without prior ATC clearance in airspace below 5,000 feet and outside ATC control areas and areas other than prohibited and restricted ones, after filing the flight plan with the nearest ATC office," it said.
On cargo front, a detailed action plan would be drawn up to ensure that it takes less time for clearance of air cargo.
The Air Cargo Logistics Promotion Board (ACLPB) would lay down norms for time slots and parking for freight aircraft and AAI would provide space on 10-year lease for express cargo and freighters.