Centre, states to share the amount in 60:40 ratio to link unconnected rural habitations and upgrade existing roads till 2020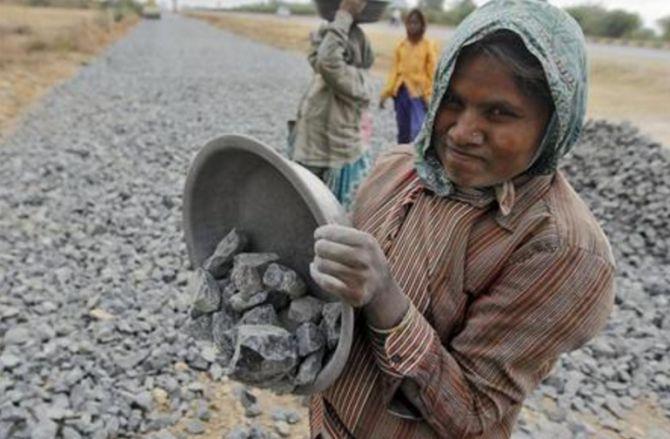 About Rs 100,000 crore will be spent on building new roads, including in areas affected by the Left-wing extremism (LWE), and upgrading the existing ones as part of the Centre's flagship Pradhan Mantri Gram Sadak Yojana (PMGSY).
According to officials in the know, of the proposed expenditure, around Rs 90,000 crore will be spent on the core programme (PMGSY 1 and 2) and will be spread over three years, starting with the current financial year.
The Centre and states will share the amount in the ratio of 60:40.
An additional Rs 11,000 crore will be spent by the Centre, also through the PMGSY, on constructing roads in LWE-hit districts.
The funds would be spent on linking all the 65,000 habitations that were not connected in the first 15 years of the programme, and also on upgrading the already built roads.
In the Union Budget 2017-18, the Centre allocated Rs 19,000 crore for the PMGSY, while the state's share was pegged at Rs 10,000 crore.
A similar funding pattern is expected to be followed for the next three years, taking the total allocation for the programme to around Rs 90,000 crore.
"In the 2016-17 Union Budget also, the total Central share for the PMGSY was Rs 19,000 crore, but from it around Rs 2,000 was deducted as interest component on loans taken.
"So, the actual allotment to us was around Rs 17,000 crore, which along with the state's share of Rs 10,000 crore took the total spending for rural roads to around Rs 27,000 crore," a senior official said.
The Centre plans to construct around 59,000 km of roads in rural areas in 2017-18 at the rate of almost 150 km a day, even though it has set a target of building 57,000 km officially.
In 2016-17, the government was able to construct 47,500 km of roads, as against the targeted 48,812 km.
"The pace of work seen in the last few years has instilled confidence that we would manage to exceed the target in 2017-18," an official said.
From 2011 to 2014, the roads in rural areas under the PMGSY were constructed at 70-75 km a day.
And in the next two years, the pace of rural road construction reached 100 km a day.
In 2016-17, roads were constructed at the rate of 139 km a day. The PMGSY launched in 2000, during the previous NDA regime, has been one of most focused programmes of the government to boost the rural economy.
Around 480,000 km of rural roads were constructed till 2016, since the start of the programme.
The road ahead
Spending would be over the next 3 years, starting from 2017-18 till March 2020
It includes Rs 90,000 cr for the core PMGSY and another Rs 11,000 cr for road connection to the Left-wing extremism-affected districts
The funds would be shared between the Centre and states in the ratio of 60:40