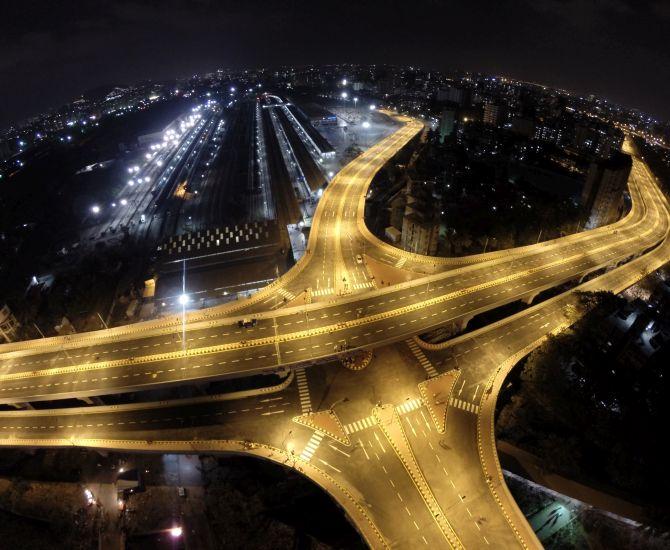 The Centre is planning to construct a tunnel ring road in Mumbai that can be linked to the proposed Ahmedabad-Mumbai highway.
The cost of the tunnel ring road project, as per initial estimates, is around Rs 90,000 crore (Rs 900 billion).
"To improve connectivity and at the same time ensure that the scenic beauty of the city is not disturbed while creating bridges and roads, we are considering building a tunnel road that would go up to the proposed Ahmedabad-Mumbai highway," Union Road and Transport Minister Nitin Gadkari said.
He said the highway project, which has been on the back burner as there is a new proposal for a Surat-Mumbai elevated road, will be revived.
"We have carried out the feasibility study and also decided the alignment of the Surat-Mumbai highway. But it is still not finalised whether we will go ahead with the project or not. In meanwhile, we are also thinking about creating a tunnel ring road that will go up to the pending proposal of Ahmedabad-Mumbai highway," he said.
Gadkari said the idea of the tunnel road came to him when he visited Holland. "I saw the tunnel connecting Notre Dame to Belgium and this gave me the idea of constructing a tunnel road in the city," the minister said.
One section of the proposed tunnel road would start from the Mahim Creek in the central part of the city and connect the Bandra-Worli Sealink on the western fringe and connect also connect Nariman Point in the south.
Another section will begin from Sewri on the eastern periphery of the island city and extend undersea to connect the JNPT at Nhava Seva across the bay and will also connect the Mumbai Port on the eastern cost. The road will enjoin the proposed Mumbai-Ahmedabad highway from Bhayandhar on the northwestern periphery of the city, he said.
Gadkari further said initial estimate on the cost of construction is around Rs 90,000 crore and said fund is not an issue. But he was quick to add that bringing down the cost is a priority and accordingly the government will be appointing a consultant for this.
"We are studying ways to ensure the cost comes down to at least Rs 60,000 crore (Rs 600 billion)," he added.
He also assured that necessary assistance from the government side would be provided to make the project financially viable.

Image: Mumbai's double decker flyover. Photograph, Courtesy, MMRDA
© Copyright 2021 PTI. All rights reserved. Republication or redistribution of PTI content, including by framing or similar means, is expressly prohibited without the prior written consent.