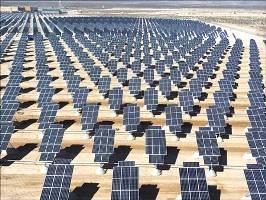 With depleting fossil fuel reserves and environmental concerns surrounding conventional power generation, the government has started work on a long-term plan to tap into India's solar and wind potential lying unexplored in its deserts.

The plan could entail an investment of over Rs 2 lakh crore (Rs 2 trillion) by 2022.

The idea is to set up renewable energy generation capacity, including both solar and wind, along with the associated evacuation infrastructure, at a mega scale in the four Indian deserts -- Thar in Rajasthan, Rann of Kutch in Gujarat, Lahul & Spiti in Himachal Pradesh and Ladakh in Jammu & Kashmir.

The country's largest power transmission utility, Powergrid Corporation, has already submitted its report detailing the renewable potential available, cost of setting up the projects and their economic viability to the ministry of new and renewable energy.

"The informal report aims at sensitisation of the feasibility of the plan. Further work will have to be done by MNRE," a senior Powergrid official told Business Standard.

According to an estimate, implementing the scheme would require an investment of Rs 208,350 crore (Rs 2,083.5 billion), including Rs 108,000 crore (Rs 1,080 billion) for setting up 11,100 Mw capacity generation projects (10,400 Mw of solar and 700 Mw of wind), Rs 19,800 crore (Rs 198 billion) for laying transmission lines and Rs 80,000 crore (Rs 800 billion) for balancing infrastructure (pumped and battery storage projects).

The overall fund requirement would go up to Rs 16 lakh crore (Rs 16 trillion) for extending the plan to 2032 and further Rs 43 lakh crore (Rs 43 trillion) by 2050.

According to the implementation strategy, a National Desert Mission will have to be formulated with provision for single window clearance on the lines of conventional ultra mega power projects, arranging soft loans to tide over initial periods of low corridor utilisation and policy for indigenisation of equipment manufacturing.

However, economic viability would play a key role in deciding the success of the plan involving such a huge quantum of solar power potential.

"Market analysts have broad consensus that utility scale solar photo-voltaic generation will achieve grid parity around 2016-17 based on the pace of reduction in cost of PV technology and the rise in conventional energy prices," Powergrid said in its report.

Central Electricity Authority and Power System Operation Corporation would work on the design and implementation of energy storage technologies while Central Electricity Regulatory Commission would have to work out regulations to govern the market design for flexible generation.

The plan requires setting up hybrid extra high voltage or alternating current high voltage direct current transmission systems for evacuation apart from transmission lines inter-connecting the desert corridors with major load centres in the states.

India's demand for power is likely to reach 890,000 Mw by 2050, requiring an installed generation capacity of 1300,000 Mw (as against 240,000 Mw, currently).

Renewable power's contribution to this demand is likely to stand at 485,000 Mw by 2050.

Of this, 300 Mw could be would be developed as part of the desert power plan.

A bulk of this capacity -- 223 Mw -- is envisaged to be created in Thar desert alone.
Please click here for the Complete Coverage of Budget 2014 -15