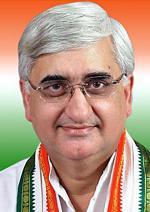 Amid the raging storm over the Niira Radia tapes, Corporate Affairs Minister Salman Khurshid on Wednesday said his ministry would hold discussions with other ministries to regulate corporate lobbying.
"There is no law on this now. Today we do not have anything in the draft that is before Parliament. But we may have to find some other way of regulating it," Khurshid said when asked if there is a move to ban or regulate corporate lobbying.
When asked about Radia tapes, the minister said, he will have to take all the ministers for a view before moving forward. Following the leakage of conversations of corporate lobbyist Niira Radia with politicians, corporates and media persons, which have stirred a hornets' nest, Tata Group Chairman Ratan Tata has moved the Supreme Court against the leakage of tapes involving him and corporate lobbyist Niira Radia and further publication of the same.
HDFC Chairman Deepak Parikh had also commented on telephone tapping and leakage of 'private conversations' saying that the morale of the industry has been hurt by such incidents. Lobbying is a legitimate business in countries like the US.
However it is not recognised in India in statutory or non-statutory form. On the other hand, Diljeet Titus, senior partner of law firm Titus & Co, said, "Lobbying, which basically means influencing government decisions externally, could invite Prevention of Corruption Act and may also go against the service rules for bureaucrats".
Lalit Bhasin, managing partner Bhasin & Co, said, "In the US lobbying is not only for corporates, but also for appointing judges. It is a flourishing industry there, a recognised mode of canvassing...
In India, it is a developing phenomena like the Public Relations." He added that lobbying, which is an act of trying to influence government leaders, is not seen as good corporate practice in India.
When asked about Chennai-based Green House Promoters, a real estate company, owned by family of Sadiq Basha, a close aide of former Telecom Minister A Raja who was questioned by CBI regarding the 2G spectrum issue, Khurshid said the ministry has not yet received any complaint. "Somebody has to complain to us."
On the Subhiksha Trading Services fiasco in which the Chennai-based retailer was forced to shut all its stores early last year after a cash crunch, Khurshid said they faced some legal complications on the issue.
"There are some legal complications and therefore we have to be guided by what the Court has said. Obviously we have a role and we will do that," he said.
To a query on setting up of a National Company Law Tribunal, he said, "It is coming after the budget session". The National Company Law Tribunal was proposed in the 2002 amendment to the Companies Act. Khurshid was here to participate in a seminar 'Corporate Sustainability: The Driver of Innovation' organised by industry body FICCI.
© Copyright 2023 PTI. All rights reserved. Republication or redistribution of PTI content, including by framing or similar means, is expressly prohibited without the prior written consent.