It is also considering to hike FDI cap for public sector from 20 per cent to 49 per cent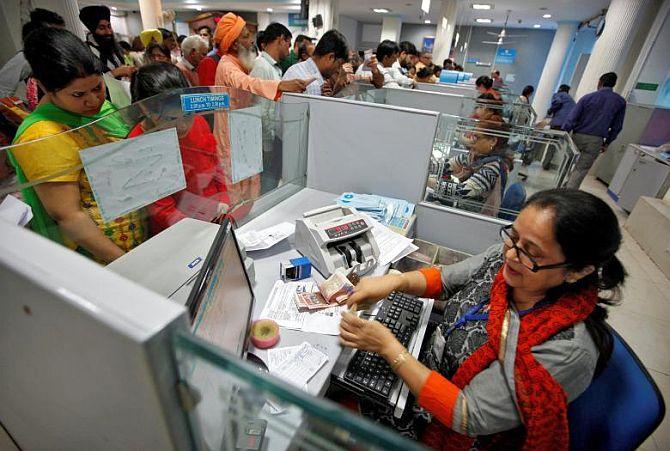 The Union government is holding talks to increase foreign investment limits in private sector banks to 100 per cent, from 74 per cent at present.
It is also considering a hike in the foreign investment cap for public sector banks (PSBs), from 20 per cent to 49 per cent, a top government official said.
"The finance ministry has suggested it (hiking foreign direct investment ceiling).
"We are formulating a response. The Reserve Bank of India (RBI) may have some objections," said the official.
Rajiv Kumar, secretary, Department of Financial Services, finance ministry, did not respond to a text message.
According to the government's policy, foreign investors - foreign direct investment, foreign institutional investors, and non-resident Indians combined - can invest up to 74 per cent of paid-up capital in private sector banks.
Up to 49 per cent foreign investment is allowed under the automatic route; such investments between 49 and 74 per cent require the government's nod under the present norms.
Former finance minister Jaswant Singh had announced hiking the foreign investment limit to 74 per cent in private sector banks in the Budget for 2003-04 and the Cabinet subsequently approved the move in 2004.
This is, however, not the first time that the government is exploring a proposal to increase foreign investment limits to 100 per cent in private banks.
The RBI had in 2015 reportedly raised objections over the Union government's proposal to increase the limit to 100 per cent for private sector banks due to "regulatory problems".
A senior Indian Banks' Association (IBA) executive said no such formal proposal in the banking sector has come to it.
Such reforms would have to come with some riders to ensure that the financial inclusion agenda gets support, he said.
R Gandhi, former deputy governor of the RBI, said the central bank was asking foreign banks to open subsidiaries instead of branches to have a larger presence in the country.
"As for those (foreign banks) wanting to pick up full stake in the existing banking entity, the RBI would use fit and proper criterion, see track record, and also prescribe a lock-in-period on FDI. Instead of a blanket policy, the RBI could decide case by case," Gandhi said.
K C Chakrabarty, former RBI Deputy Governor, told CNBC that relaxing the FDI rules will help banks get the much-needed capital.
"FDI is about investment; not ownership or management control," he added.
Photograph: Ajay Verma/Reuters