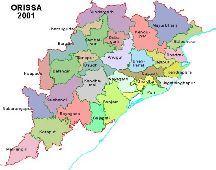 Faced with problems of acquiring land for various projects in the state, the Orissa government has decided to create exclusive land banks for industrial purpose.
"I have asked the district collectors to reserve land for major industries and ancillaries in their respective districts", state's revenue minister S N Patro said on Friday.
He was speaking in the conference of collectors of southern revenue division, where several senior officers of different departments and collectors of 10 southern districts were present.
The land bank will remove the hurdles in acquisition of land by the industries, he added.
Almost all the major industrial houses, which have signed memoranda of understanding with the state government for setting up of their projects in the state, are now facing problems as the affected people are unwilling to vacate the identified land.
The projects, which are unable to progress because of this problem, include 12 million tonne steel plant of Posco near Paradip, six million tonne integrated steel plant of Tata Steel at Kalinga Nagar, 12 million tonne steel plant of Arceal Mittal in Keonjhar, Vedant Aluminum Project at Lanjigarh in Kalahandi district and Utkal Alumina Project near Kasipur in Rayagada district etc.
"I have also asked the collectors to solve the land acquisition problem through discussion with the affected persons and giving them appropriate compensation under the resettlement and rehabilitation policy formulated by the state government in 2006', the minister said.
The conference was attended by the secretary, revenue department, RK Sharma, secretary, industries department, Sourabh Garg, director industries Hemant Sharma, secretary, transport and commerce department, Satyabrata Sahu, revenue divisional commissioner (southern division) Chandra Sekhar Kumar, besides the district collectors of Ganjam, Gajapati, Rayagada, Kandhamal, Boudh, Koraput, Malkanagiri, Nabarangapur, Kalahandi and Nuapada.