This New Year, the government is likely to give flyers from the Delhi airport a welcome surprise by reducing the airport development fees (ADF) substantially.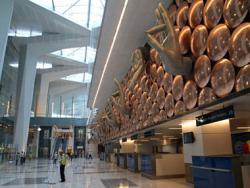 From January 1, the ADF the international passengers pay is likely to see a 54 per cent drop - from Rs 1,300 to Rs 600 per passenger per flight - while the Rs 200 every domestic passenger pays would be halved.

The civil aviation ministry is said to have agreed to the suggestion of the Airports Economic Regulatory Authority (Aera) that the three-year ADF-recovery period of Delhi International Airport Ltd (DIAL) be extended by two years.

A ministry source confirmed this, saying: "With GMR and GVK (majority stakeholders in consortia running the Delhi and Mumbai airports, respectively) refusing to infuse equity, Aera had given its view that ADF be reduced by around 50 per cent and the recovery period be extended by two years. The ministry has examined the matter and concurred with the view. Mumbai's tariff revision is still under consideration."

Civil Aviation Minister Ajit Singh also corroborated this, saying: "ADF will be brought down, but Aera has to take the final call. The main objective was to ease the burden on passengers. I assure that will happen."

DIAL did not comment on the issue.

Earlier
in October, the government had decided to abolish ADF at Delhi and Mumbai airports. Under the plan, mooted by the civil aviation ministry, the Airports Authority of India (AAI) had to infuse Rs 288 crore (Rs 2.88 billion) and Rs 102 crore (Rs 1.02 billion) for the Mumbai and Delhi airports, respectively, against its 26 per cent share in both joint ventures.
The other private players also had to infuse commensurate amount as equity and debt. But GMR and GVK had indicated they could not infuse equity.
Ministry sources told Business Standard: "With GMR and GVK not infusing equity, there would be no need for AAI to do so, either."
The reason for ADF to be imposed was AAI's inability to contribute more equity into the two joint ventures, given its weak finances.
The Delhi and Mumbai airports collect ADF from passengers to bridge the gap between the actual project cost and the investments made by them.
A civil aviation ministry statement of October 16 mentions: "The expected financing gap in the case of MIAL will be approximately Rs 4,200 crore (Rs 42 billion) while that in the case of DIAL would be about Rs 1,175 crore (Rs 11.75 billion) if ADF is abolished from January 1."
The imposition of ADF had led to a lot of opposition from customers, as well as some airlines, which had said the burden on some of the routes was making their operations unviable.