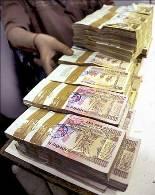 As part of efforts to check corruption, the Central Vigilance Commission has sought by early next month financial details of works carried out by different departments during the year for its scrutiny.
The anti-corruption watchdog has directed all central government departments and ministries to submit details of all contracts entered into and payments made to contractors and pending bills.
The chief technical examination wing of the commission has set a deadline of January seven for it. The departments have been told to furnish all information related to civil and electrical works done by the ministries besides other contracts valued at Rs two crore or above.
"A circular has been issued on December 14 to Chief Vigilance Officers (CVOs) of all ministries. They have been told to give details of all contracts (including tenders) and civil works. Besides they have asked about financial transactions made to contractor against the work," a CVC official said.
The probity watchdog has specifically sought details of high-value projects, payment details, contractor details, third party examination report and tender documents made in the year.
It has asked for details of mandatory completion certificate, compliance
report of CVC's guidelines to check corruption, guarantee bond towards security for work machinery or mobilisation advance, insurance policy for work, material equipment, men etc. and details of pre-contract negotiations among others.
"The Commission cam across many irregularities in conduct of different works done by central government departments. However, we timely intimate them to follow our guidelines and check for non-adherence through technical examination," he said.
The Commission has recovered about Rs 56 crore (Rs 560 million) after inspecting public procurements and other works carried out by different agencies till November.
The CVC has found alleged financial and administrative irregularities in over 30 Commonwealth Games projects in the national capital and overlays deals by the Organising Committee for the mega-sporting event.
Besides, the CVC has found alleged bunglings in the allocation of 2G spectrum to certain telecom companies. The CBI is probing the matter.