Shishir Bhate, Swedish home furnishing retail giant Ikea, which had put on hold its $1-billion India investment plans in 2009, wants to take a relook at India's retail growth story if the government allows 100 per cent foreign direct investment in multi-brand retail, said Union Commerce and Industry Minister Anand Sharma on board the prime minister's aircraft on way to Hanoi from Kuala Lumpur.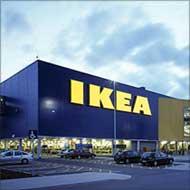 The minister said that "Ikea's proposal for allowing 100 per cent FDI in multi-brand retailing was under the government's consideration."

The $31-billion company, which sources around 30 per cent of its global consumption from India, had also criticised the Indian government for not opening foreign direct investment in single brand retailing, especially for companies whose presence in India would not affect the mom-and-pop stores.

India allows 51 per cent FDI in single brand retail but the foreign company must have an Indian partner. New Delhi does not allow any foreign investment in multi-brand retail.

Ikea had decided to dump India from its investment plans, rubbishing the Indian retail growth story saying that the country was not ready for big retailers.

Sharma said that Ikea could create hundreds of jobs if it sets up shop in India.

The commerce ministry had earlier this year made a strong case for opening up the multi-brand retail sector for foreign investment. The Department of Industrial Policy and Promotion, which is part of the ministry of commerce, has been pushing for the easing of FDI norms in retail.

The DIPP had come out with a discussion paper on the contentious issue earlier this year and had solicited the opinions of all stakeholders.

Allowing FDI in retail could also assist in bringing technical know-how to set up efficient supply chains, which can act as models of development. It would also assist in lowering consumer prices and inflation, the DIPP had said.

The Indian retail market is estimated to be over $350 billion and has attracted a lot of homegrown organised retailers including, Bharti, Reliance, Future Group, Aditya Birla Group, as international players wait for FDI relaxation and announce cash-and-carry operations like Wal-Mart.