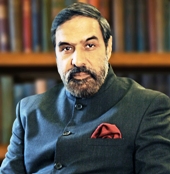 Commerce and Industry Minister Anand Sharma said on Thursday the government will issue certain clarifications in foreign direct investment policy which will come into effect prospectively.

". . .there will be some clarifications on FDI policy. And whatever clarifications will be issued that will be prospective," he told reporters after meeting Finance Minister P Chidambaram in New Delhi.

The two ministers are believed to have discussed the issue of redefining foreign direct investment and foreign institutional investment to remove ambiguities.

According to sources, the Department of Industrial Policy and Promotion would soon issue clarifications on FDI in multi-brand retail sector.

"In multi-brand retailing, several big retail players have raised questions like what constitutes back-end infrastructure," the source said.

On a question on whether the Commerce and Industry Ministry and the Finance Ministry have differences on defining the word "control", Sharma said: "There is a complete agreement and understanding between the ministries".

The Securities and Exchange Board of India takeover code and the proposed Companies Bill define control as the right to appoint majority of directors as well as to control management and policy decisions including via shareholder agreements.

The FDI policy defines control only as the right to appoint majority of directors.

Due to this, there has been differences over the definition.

Clarity on the matter would help foreign investors make downstream investments even in sectors where there are FDI caps.
Image: Anand Sharma