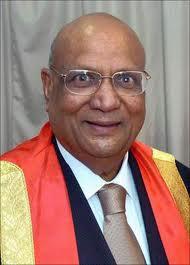 Governments across the world are failing to acknowledge a looming water crisis and a health and poverty disaster, leading NRI industrialist and educationist Lord Swraj Paul has said.

"As we look to 2050 we see climate change with unprecedented levels of CO2 in the atmosphere, a looming water crisis that governments across the globe are failing to acknowledge, and a health and poverty disaster with 65 per cent of the world's projected 8.5 billion population living in mega-cities," he said.

Lord Paul, who is the Chancellor of the University, was speaking at the University of Westminster Graduation Ceremony at Westminster Business School.

He noted that, "The navigation of our society through this uncertain future is a heavy responsibility but also an exciting challenge for you all."

During the ceremony, Lord Paul also presented an Honorary Degree to Greg Dyke, British media executive, journalist and broadcaster who is also chairman of the UK's Football Association.

Describing Westminster University as an international University where "We celebrate diversity, tolerance and liberty," Lord Paul said, "Our distinctiveness gives us an influential position in an increasingly competitive market.

"We have exciting ambitions and we seek new partners to help fund a range of projects, including high-impact developments such as the restoration of London's first cinema at 309 Regent Street where the Lumiere brothers first showed their new 'movie'.

"We also look for support for our scholarships programme, already one of the best in the UK, to enable even more students from all backgrounds to benefit from the Westminster experience," he said.

He told the new graduates, "Today you become one of our alumni, you become a member of the University of Westminster community across the world.

"Our Alumni Association is not an innovation: its roots are found in the formal establishment of an overseas alumni list in 1906."

"By 1913, when alumni paid two shillings and sixpence to become Honorary Members and received what was known as The Polytechnic Magazine, there were 128 paid up members from all corners of the globe, including 4 who were resident in India. "Today we have 250,000 alumni in 199 countries and territories," he said.
Image: Swraj Paul