Finance Minister P Chidambaram suggested on Tuesday that the government is unlikely to raise the import tax on gold further to avoid gold smuggling and would instead introduce inflation-indexed instruments to help curb a record current account deficit.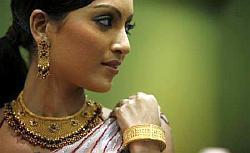 In January India raised the import tax on gold to 6 percent to curb purchases.

Its passion for gold, seen by many as a hedge against high inflation, has led to a rise in its current account deficit, which reached an all-time high of 6.7 percent of gross domestic product in the December quarter.

"We did raise tariffs from 4 percent to 6 percent, but there are limits to which tariffs can be raised on gold, because if you raise tariffs prohibitively, gold smuggling will increase," Chidambaram told Reuters in an interview.

India vies with China as the top global consumer of gold, and with nearly all demand covered by imports, the country's purchases are a major factor in global prices.

"Creating inflation-hedged financial instruments is a way out to reduce dependence on imports of gold. RBI and the government are working on inflation-proof, inflation-indexed instruments," he said.

The Indian economy, mired by the global slowdown and stubbornly high inflation, probably grew around 5 percent in the business year ended on March 31, the slowest pace in a decade.

As a part of a government drive to avert this trend, Chidambaram is planning a series of meetings after his return to India with stakeholders to speed up stalled investment projects.

India has a clogged pipeline of large industrial and infrastructure projects making businesses unable or unwilling to invest. Reducing bottlenecks is a short-term measure that will help
boost growth, said Chidambaram.
"Banks have agreed to lend to 215 projects where the investment is very large amount. We'll bring the bankers and project developers together, identify the blocks and try to remove the blocks," Chidambaram said adding he expected to "make very quick progress in the next weeks and months."
The minister, who is in Tokyo to promote India as investment destination, has already met Prime Minister Shinzo Abe and has lined up meetings with Japan's largest business lobby Keidanren, portfolio investors and key government ministers.
Foreign Investment Caps


The Harvard-educated former lawyer also said that the government will reform foreign investment caps to attract more investment to help tackle its large current account deficit. His government wants to open up the insurance and pension sectors.
"I think there's a reasonable chance that parliament will go along with my proposal. If we raise the insurance cap from 26 percent to 49 percent, automatically, the pension cap would be raised from 26 percent to 49 percent," he said.
The government is continuing negotiations on the issue. In March, the regional Samajwadi Party (SP), said it will keep supporting the Congress Party-led government, after a key ally withdrew from the coalition, but said it would oppose plans to open up the insurance and pension sectors to foreign investors.
India's financial account, which includes foreign direct investment, portfolio investment and overseas borrowing by Indian companies, showed a surplus of $31.1 billion in the December quarter for the fiscal year ended March 31.
"We have to look at each cap, ask ourselves does it serve any purpose, if there's a purpose, we'll continue with the cap, if there's no purpose the cap should either be relaxed or removed."