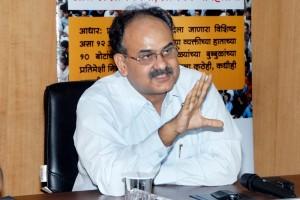 Government on Thursday promoted DG and Mission Director of Unique Identification Authority of India Ajay Bhushan Pandey its chief executive officer.
"The Appointments Committee of the Cabinet has approved appointment of Dr A B Pandey, IAS, Director General and Mission Director, Unique Identification Authority of India, as Chief Executive Officer, Unique Identification Development Authority of India, with effect from July 12, 2016," an official notice said.
A doctorate in computer science from University of Minnesota Minneapolis of US, Pandey is a Maharashtra cadre IAS officer of 1984 batch.
He has been involved with UIDAI established under the Aadhaar Act and implementation of Aadhaar since September 2010.
It was during his tenure as the UIDAI head when Aadhaar allocation crossed 100 crore (Rs 1 billion) and a new Aadhaar Bill was passed.
As per the Aadhaar (Targeted Delivery of Financial and other Subsidies, Benefits and Services) Act, 2016, the UID Authority shall consist of a chairperson, appointed part-time or full-time, two part-time members, and the chief executive officer who shall be member-secretary of the Authority, to be appointed by the central government.
". . . a chief executive officer of the Authority, not below the rank of additional secretary to the Government of India, is to be appointed by the central government," the Act states.
Photograph of Ajay Bhushan Pandey: Kind courtesy, www.tkbsen.in