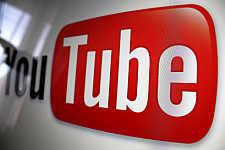 Google, getting a headstart on the annual tradition of April Fools' pranks, released a YouTube clip declaring that the world's most popular video website will shut down at the stroke of midnight.

The three-minute video intended as a gag - a montage of clips and cameos from viral video stars like David Devore from David after the dentist - describes how the website will wind down as some 30,000 technicians begin to trawl through 150,000 clips, to select the world's best video.

The winner gets a $500 stipend, a clip-on MP3 player - and becomes the sole video to be featured on YouTube when the website relaunches in 2023.

"Gangnam Style has the same chance of winning as a video with 40 views of a man feeding bread to a duck," YouTube CEO Salar Kamangar pronounced, referring to the viral sensation from Korean pop artist PSY that's now the most-viewed
video on the site.
Google's video also features intense discussions between judges, who hotly debate the merits of everything from
Citizen Kane
to "epic skateboard fail".
While clearly tongue-in-cheek, several YouTube viewers appeared stricken or dumbfounded, while others expressed sadness and regret in attached comments.